Easter Inspiration - Issue #10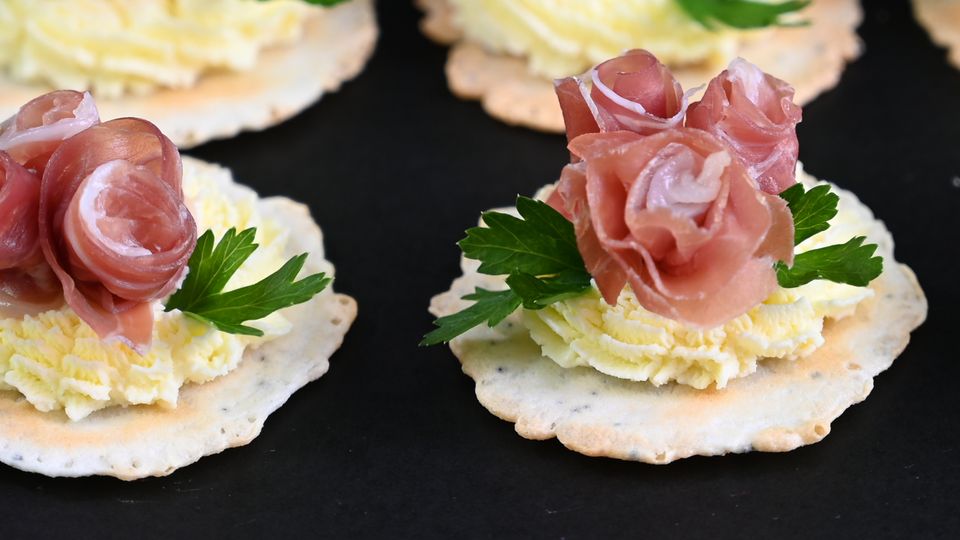 Hello Food Lovers,
I can hardly believe it's Easter next week. I was so excited with the prospect of hot cross buns and cinnamon scrolls that I didn't know which ones to make… so that's when I decided to mix them up and create a 'hot cross bun chocolate scroll'! I wish you could have smelt it or at the very least seen the kids faces when they got home from school to a delicious afternoon tea still warm from the oven.
Anyway, on a different note, if you happen to be entertaining over the Easter holiday period, you might like to surprise your guests with a delicious cold hors d'oeuvre at some stage. Check out our new video for some ideas and inspiration.
In this issue:
Fresh off the press (+ Recipes) - What is a hors d'oeuvre?
Inspiration from my kitchen - Easter is just around the corner.
Q&A - Any tips for getting the raisins in a hot cross bun to disperse evenly through the dough?
What's in the pipeline? - Pork Fillet
Fresh off the press... (+ Recipes)
Our latest video - What is a hors d'oeuvre? has just been published.
In this video we discuss what a hors d'oeuvre is, then show you 3 simple cold hors d'oeuvre ideas. A hors d'oeuvre is a great way to start a dinner party, or simply just give your guests something to snack on while you're preparing the rest of the meal.
The three ideas we are making today are a pear and walnut skewer, a mini salmon tortilla, and lastly a more decorative prosciutto rose wafer.
Hors d'oeuvres are great as you can mix and mingle your favourite appetizer recipes to come up with new a selection of eats to enjoy.
Click on the video to have a look and see how we made them…
Pear and Walnut Skewer
Ingredients:
Fresh pear, cut into bite sized chunks
Oil and maple syrup for frying - optional (you could also use golden syrup or a sprinkle of brown sugar)
Rocket/arugula leaves
Brie cheese, cut into chunks
Walnut pieces
Balsamic reduction
Method:
Briefly fry the pear pieces in a little oil and maple syrup to soften slightly.
Thread the pear, rocket and cheese onto a skewer.
Press a walnut into the cheese.
Drizzle over the balsamic reduction.
Mini Salmon Tortilla
Ingredients:
A piece of pan fried salmon or smoked salmon
Avocado, mashed
Tortilla wraps
Leafy salad greens
Mayonnaise (optional)
Black sesame seeds (optional)
Method:
Cut the tortilla into small circles using a circle cutter.
Spread with some mashed avocado.
Add some leafy salad greens and then top with a little flaked salmon.
Pipe over some mayonnaise and finish with a sprinkle of sesame seeds.
Peg the sides up enclosing the filling in the centre.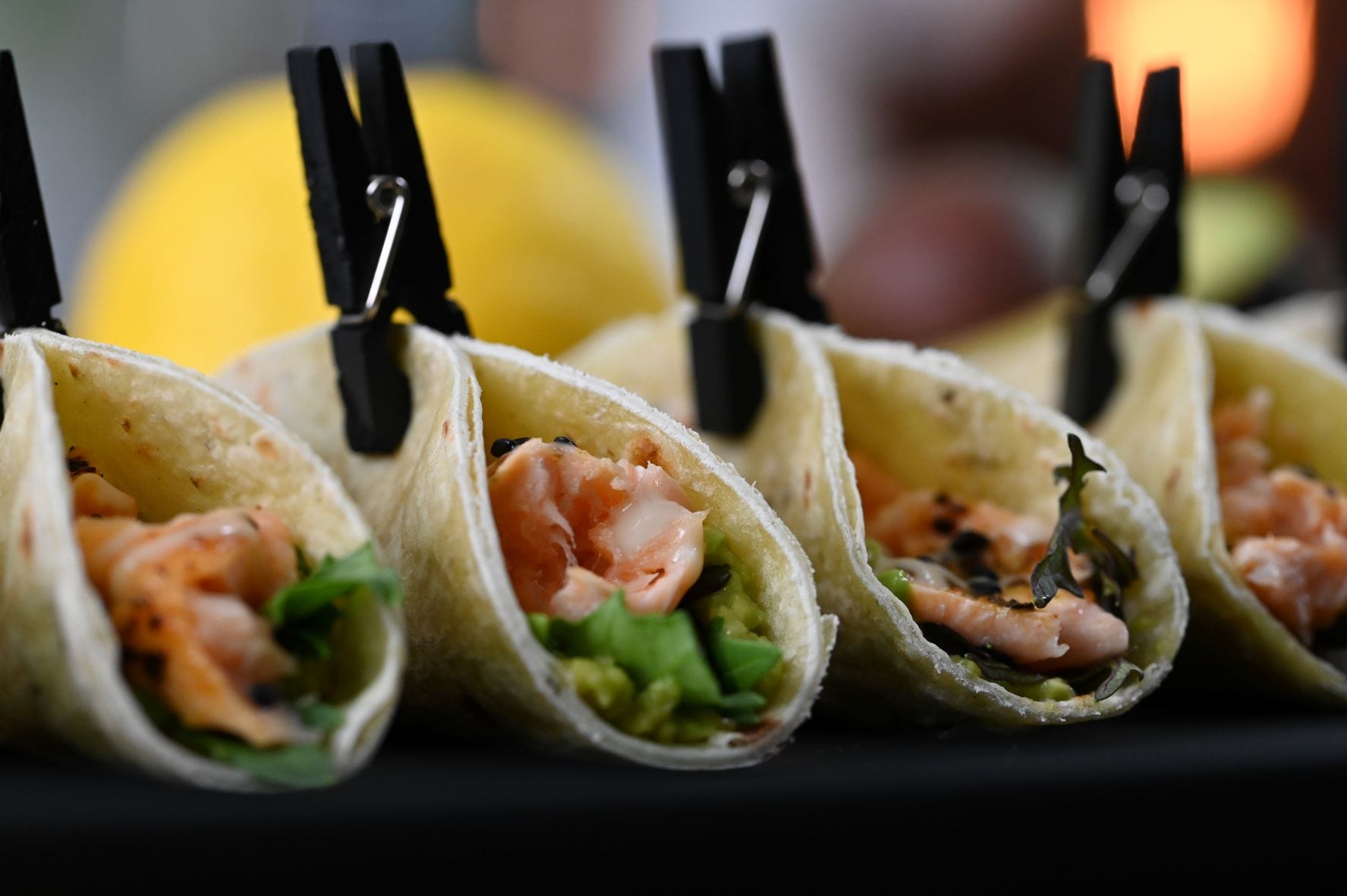 Prosciutto Rose Wafer
Ingredients:
Plain water crackers (or something similar)
Spreadable cream cheese
Thinly sliced prosciutto
Fresh flat leaf parsley or dill to garnish
Method:
Pipe a rosette of cream cheese onto each wafer cracker.
Cut the prosciutto into thin strips and roll up into a rose shape. You can tease out the edges to make it look more realistic.
Put 3 roses onto each wafer.
Garnish with dill or parsley. If you use a skewer, you can push it into the base of the herbs which makes them stand up rather than lie flat.
Inspiration from my kitchen
How can it almost be Easter and the April school holidays already?! The year seems to be hopping along rather rapidly!
When this thought suddenly dawned on me I didn't know what I felt like making and eating more - hot cross buns or cinnamon scrolls? So guess what? I ended up making a hot cross bun dough, but instead of making buns I rolled the dough, added some chocolate chips and then rolled it up and cut it into scrolls.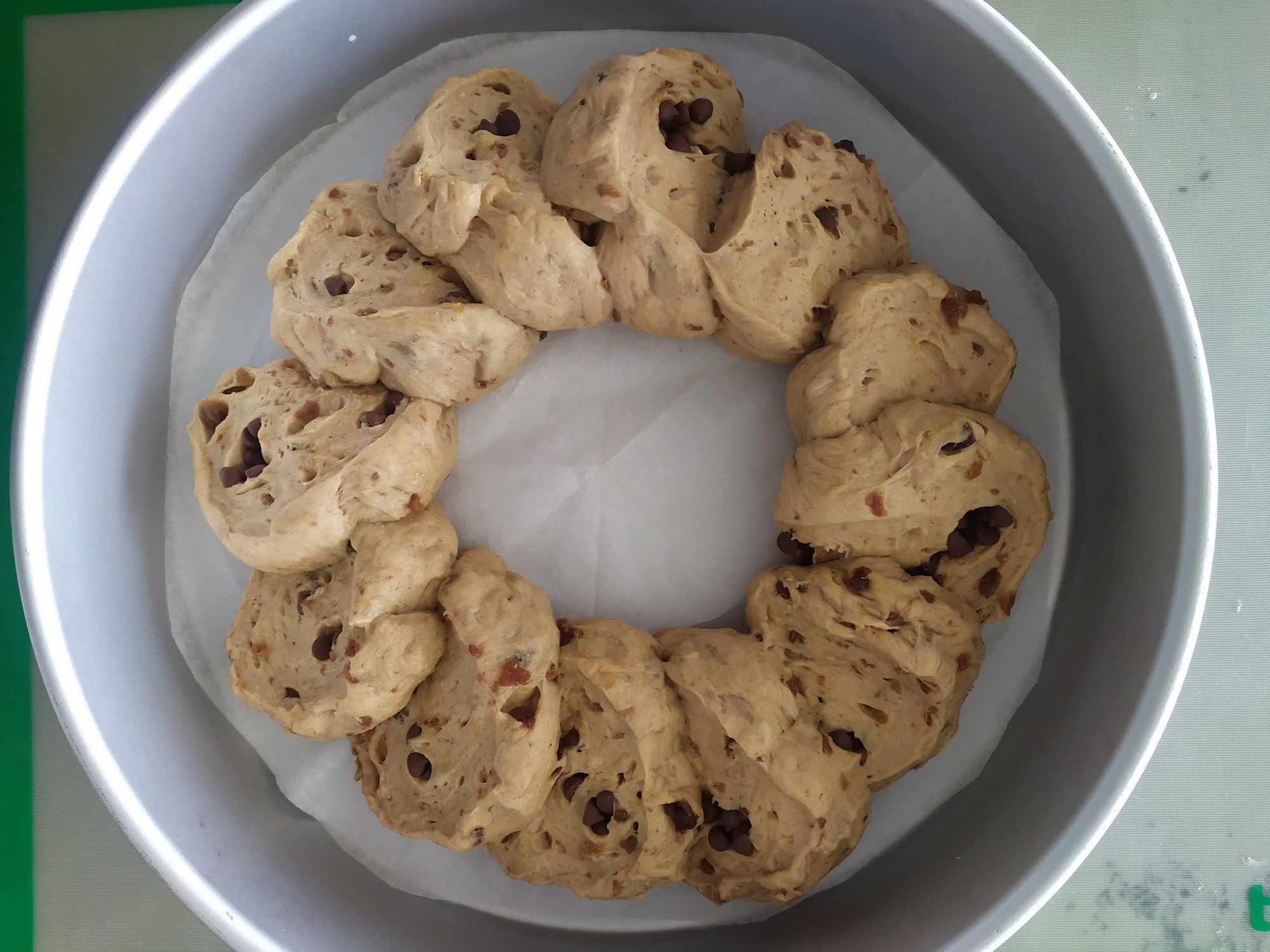 For a bit of extra fun I overlapped the scrolls a little in a wreath shape before baking it. To finish it I drizzled over some melted white chocolate. It was so delicious. I love playing around with different doughs and coming up with different combinations.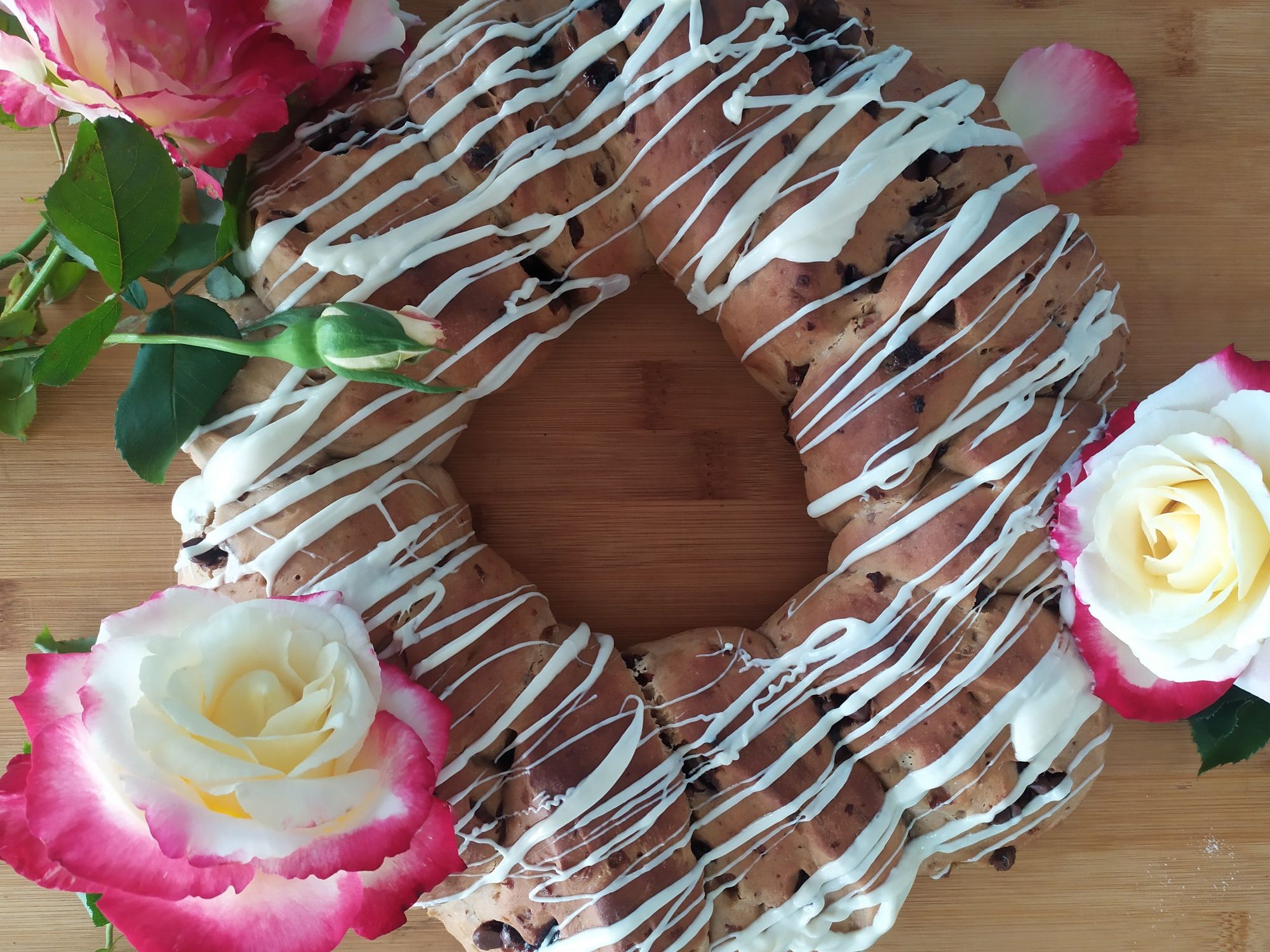 Q&A
Q: Any tips for getting the raisins in a hot cross bun to disperse evenly through the dough?
A: This is a great question. I don't know if you have noticed the raisins often clump up and you end up with more in some buns and less in others. I have found that soaking your raisins or sultanas before adding them to hot cross bun dough (or tea cakes and scones etc for that matter), disperses them more evenly. Though it's not essential it does make them plumper, more flavoursome, and nicer to eat.
I weigh out the raisins or sultanas, pour over some boiling water and leave it while I get everything else prepared. Then I drain them and add them into my dough. I would say a minimum of 5-10 minutes soaking will work, but you can leave them much longer than that if you want to.
What's in the pipeline?
I often get asked "How do you plate food", and really there isn't a one off answer. It's a series of simple steps that I think about during the planning, cooking and plating process that lead to a beautifully plated meal. We're making a video at the moment where I try to explain the thought process behind food plating and presentation, featuring pork fillet with a ginger infused kumara mash.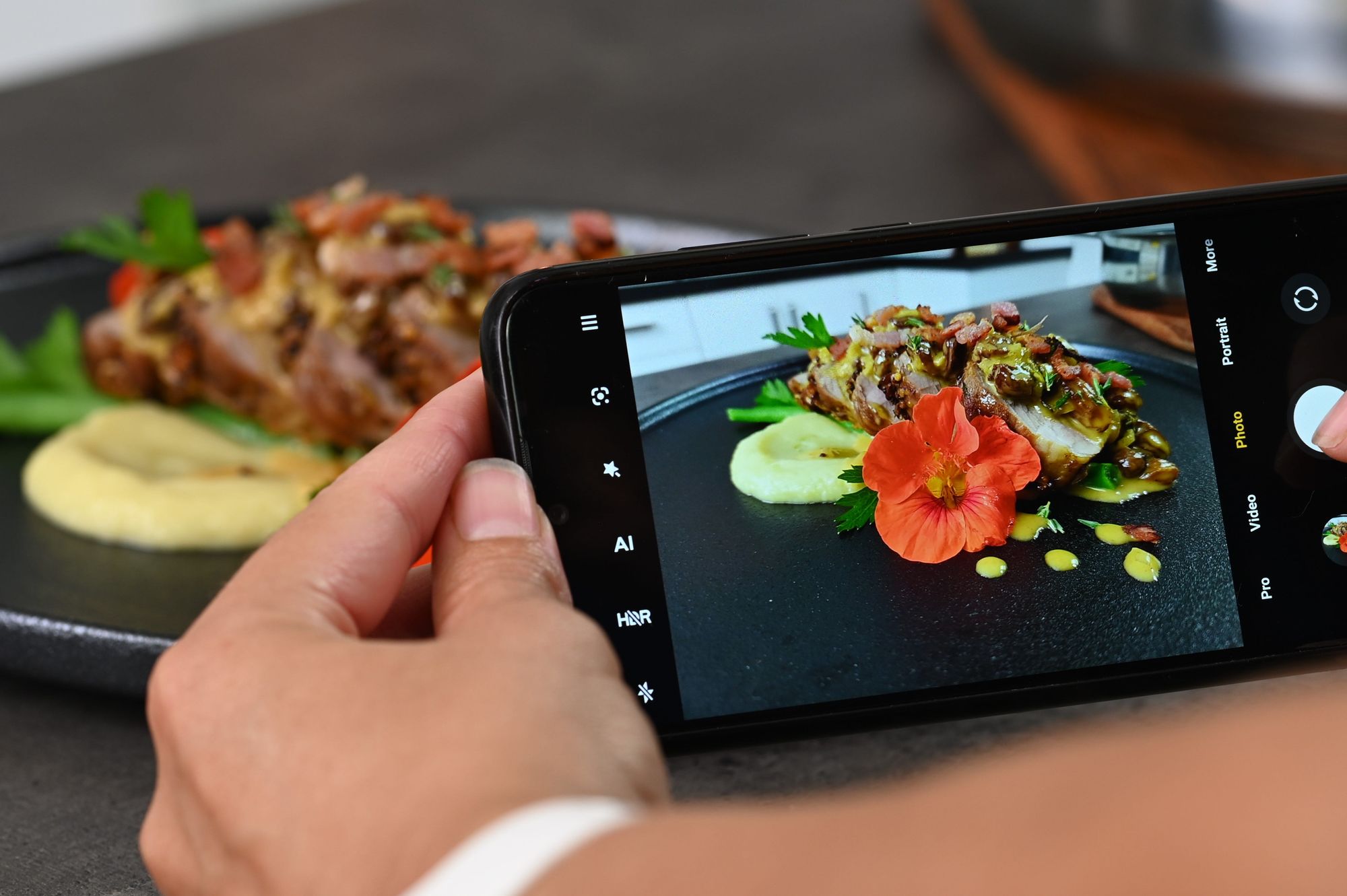 Happy cooking,
Taryn