Achieving the Perfect Plate - Issue #11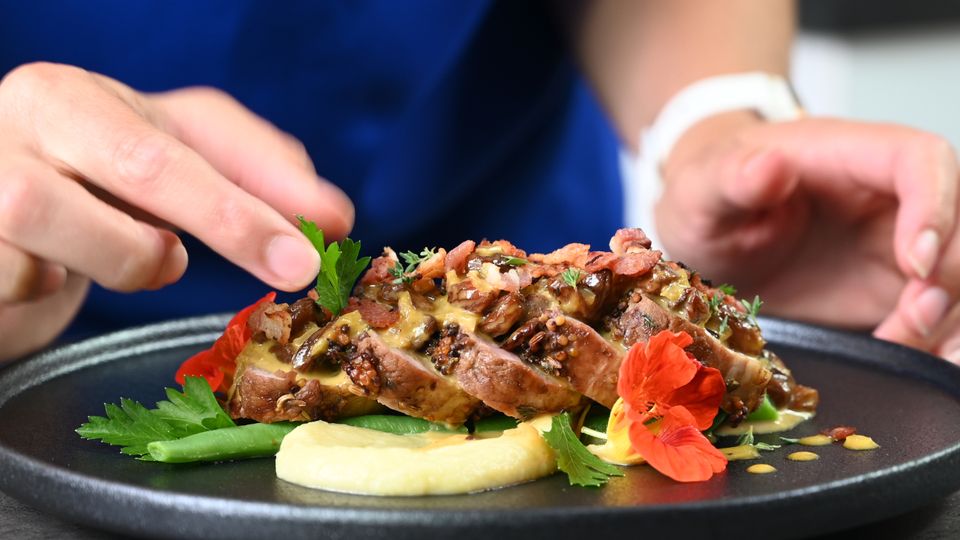 Hello Food Lovers,
Welcome to issue 11. This is the first issue sent from my new website. You'll now have easier access to all our historic newsletters, so finding those delicious recipes from our YouTube videos should be a whole lot easier. I'm also planning to send slightly shorter weekly newsletters from now on. Yay!
I hope you enjoy this weeks video, in it I talk about a whole lot of tips you can use to up your plating game.
In this issue:
Fresh off the press (+ Recipes) - Achieving the perfect plate: A chef's insider tips
Q&A - Carrots come in a variety of different colours these days, are there any benefits to using a particular colour?
Something else to share...
Fresh off the press... (+ Recipes)
Our latest video - Achieving the perfect plate: A chef's insider tips - has just been published.
In this video we discuss 5 tips to keep in mind that will help you create a perfectly plated meal.
Beautifully plated meals don't just happen by chance. There are certain concepts and ideas that are kept in mind during the planning, cooking, and plating process that all contribute to the final plate.
We use a fennel and raisin pork fillet served with a kumara (sweet potato) puree to help illustrate these tips as we discuss them throughout the video.
Have fun planning your next plated meal. I'm sure if you think about each of these tips in the planning process you'll end up with a perfectly plated work of art.
Click on the video to have a look - https://youtu.be/WuLLm0b96ZM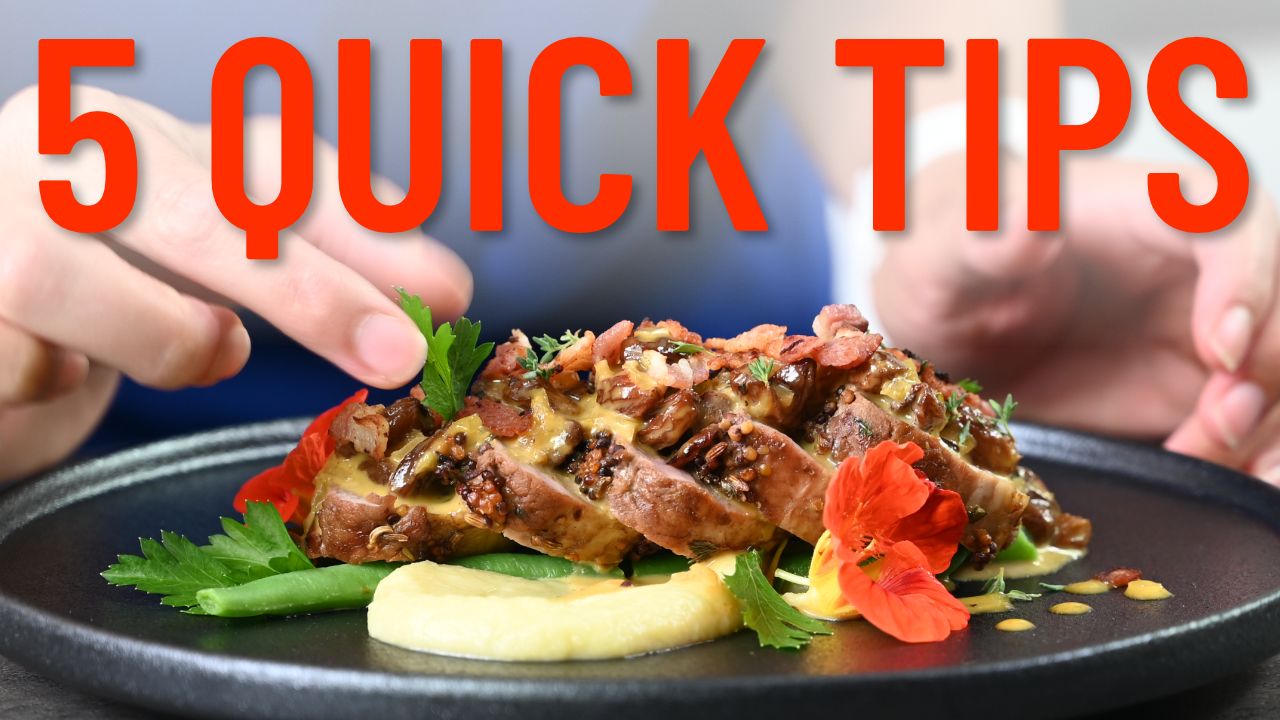 Pork Fillet with Fennel and Raisin Pan Sauce
Ingredients:
1 pork fillet
2 slices streaky bacon, finely diced
1 teaspoon fennel seeds
1 sprig fresh thyme
1 tablespoon Worcestershire sauce
1 tablespoon seeded mustard
Oil for frying
1/2 onion, finely diced
2 cloves garlic, crushed
1/4 cup raisins
1 cup vegetable or chicken stock
1/4 cup white wine
1/4 cup fresh cream
Salt and pepper
Method:
Pan fry the bacon until crispy and set aside to drain.
Rub the Worcestershire sauce, fennel seeds, fresh thyme, and mustard all over the pork.
Pan fry in a little oil, until browned on all sides.
Put it into a hot oven, approximately 180 degrees Celsius (360 degrees Fahrenheit) until the internal temperature reaches 70 degrees Celsius (140 degrees Fahrenheit). Leave to rest for 10 minutes.
While the pork is in the oven, add another drizzle of oil into the pan and add the onion and garlic.
Sauté until soft, but not coloured.
Deglaze the pan with the white wine.
Add the stock and raisins, and simmer until reduced by half.
Add the cream and reduce until it reaches the desired sauce consistency. Usually this is when the sauce is thick enough to coat the back of a spoon and not just run off.
Once the pork is out of the oven and resting, add in any of the meat juices from the pan to the sauce for some extra flavour.
Cut into pieces to serve.
Kumara and Ginger Puree
Ingredients:
1 kumara or sweet potato, peeled
1/4 apple, peeled
1 teaspoon fresh ginger
1/2 onion, finely diced
1 clove garlic, crushed
Salt
Method:
Chop the kumara and apple into chunks and bring to the boil. Boil until very soft.
Drain and put into a blender. (Make sure you keep the drained liquid to use for thinning the puree if necessary.)
Sweat the onion and garlic in a little butter and oil.
Grate in the fresh ginger and cook until fragrant and soft.
Add to the blender and puree until smooth.
Q&A
Q: Carrots come in a variety of different colours these days, are there any benefits to using a particular colour?
A: All varieties of carrots are nutrient dense and a great addition to a healthy diet. They're high in fibre, rich in potassium, and contain vitamin K and vitamin C. In saying that though, each colour has their own specific set of antioxidants and different nutritional benefits.
Purple carrots contain nine times more polyphenol antioxidants on average than the other colours. Polyphenols promote health and reduce your risk of heart disease, mental decline, and certain types of cancer.
From a food presentation point of view, they all have a place - different colours can add so much visual appeal to your dish.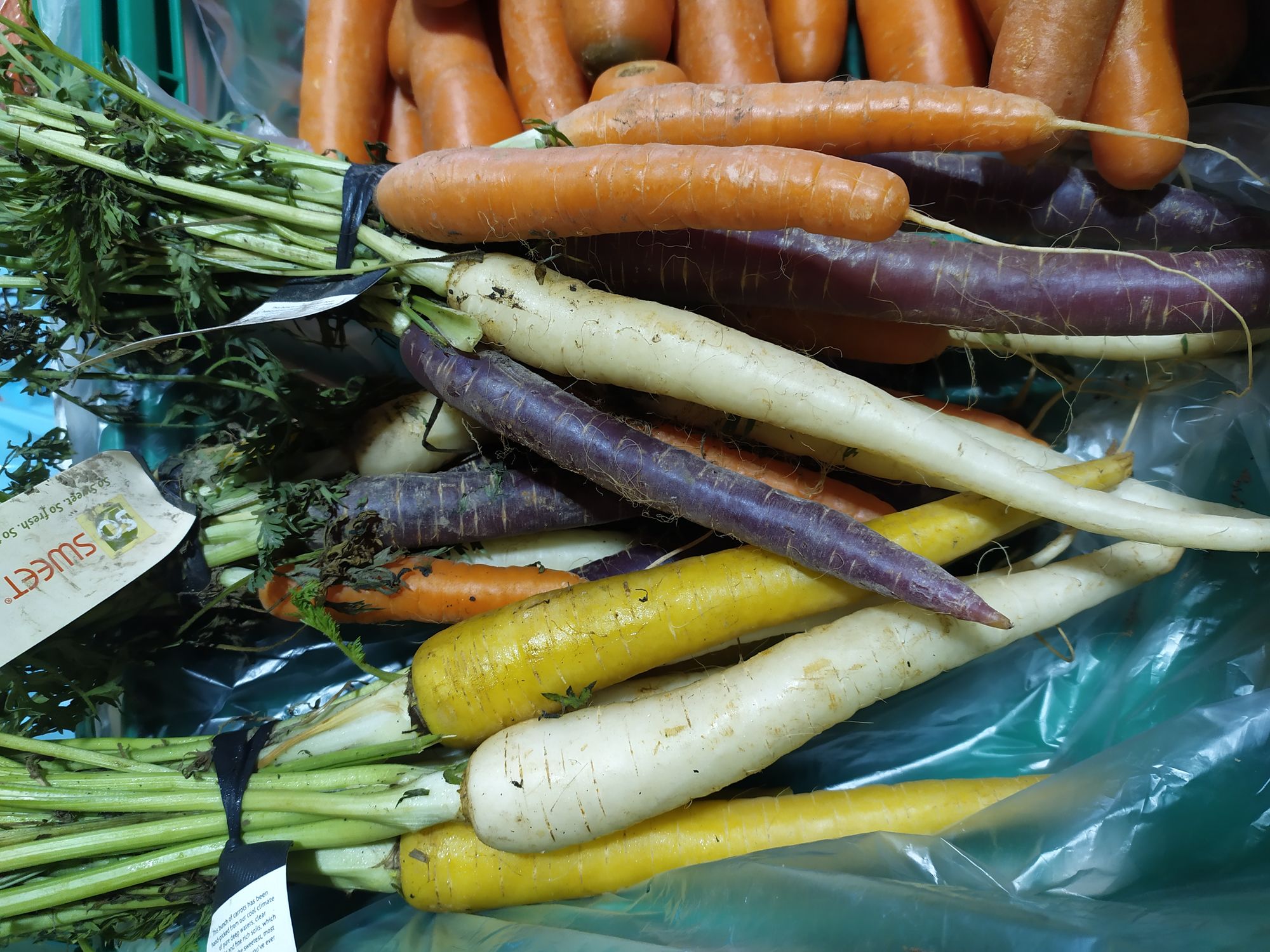 Something else to share...
We've been asked several times how you can support what we do on YouTube, so we've now got a 'patreon' like tier available. If you like our videos and newsletters and find them helpful - you can now become a 'supporter' and contribute a small monthly amount.
Any support we receive goes straight back into purchasing ingredients and video equipment so that we can keep making even better videos.
If you have any questions or suggestions please get in touch, it's our goal to make our videos and newsletters exactly what our subscribers and supporters would like to be receiving. You can reply to this newsletter or email me at info@easypeasy.co.
Happy cooking,
Taryn