Simple Dessert Transformation - Issue #13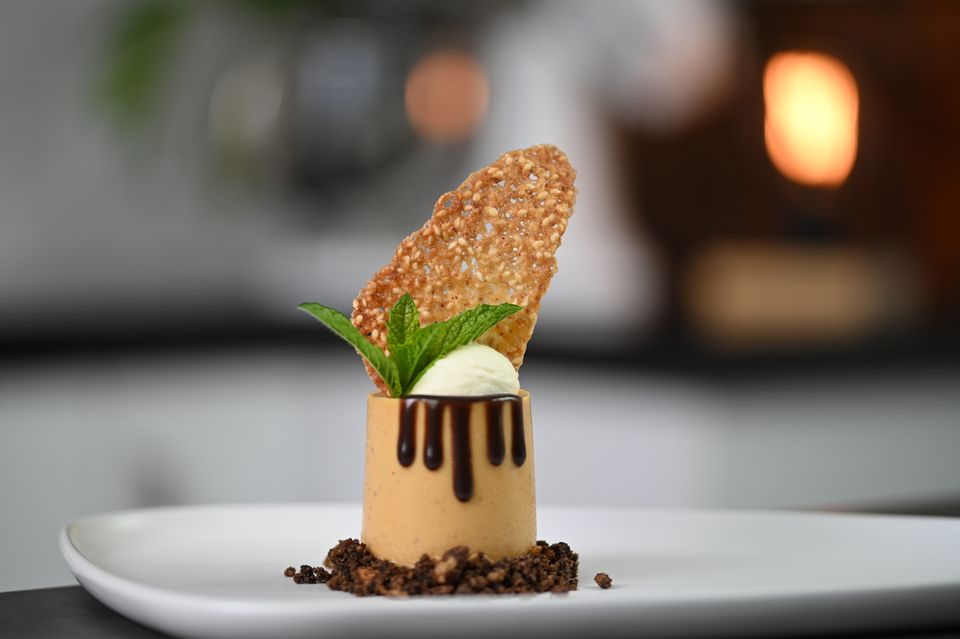 Happy Thursday!
Food presentation is often thought of as something that's tricky and time consuming. But it really isn't! Often it's the simplest little additions that can make the biggest difference. I love trying different things with what I have in my garden, fridge or pantry to see what I can come up with. Sometimes it works and sometimes it doesnt - but that's the way we learn.
Our goal at EasyPeasy is to inspire you to try new recipes, experiment with your ingredients, discover new flavours and ultimately elevate your food presentation game.  
In each newsletter, you'll find a mix of recipes, cooking tips and generally things that I have been doing in my own kitchen. From simple weeknight meals to elaborate dinner party dishes, we've got you covered. I hope you enjoy the dessert transformation in the latest video.
In this issue:
Fresh off the press (+ Recipes) - Transform a traditional dessert into a fine dining experience
Recipe of the week - Refreshing mint cordial
Fun in the kitchen - Cake inspiration
Fresh off the press... (+ Recipes)
Our latest video - Transform a traditional dessert into a fine dining experience - has just been published.  
In this video we turn a simple dessert into a fine dining experience. If you take a dessert recipe you already know well and just construct it differently, or maybe add a few extra ingredients to it, you can come up with something unique and amazing!
This video features a popular South African Peppermint Crisp tart, except that we set it in a cylinder to create height in the dessert. To add more texture to the dish we make a sesame tuile biscuit, and we also add a sauce component to bring more flavour and intrigue.
Maybe after watching this video you might be inspired to try reconstructing one of your good old favourite desserts?
Click on the video to have a look - https://youtu.be/WCTVlUos00U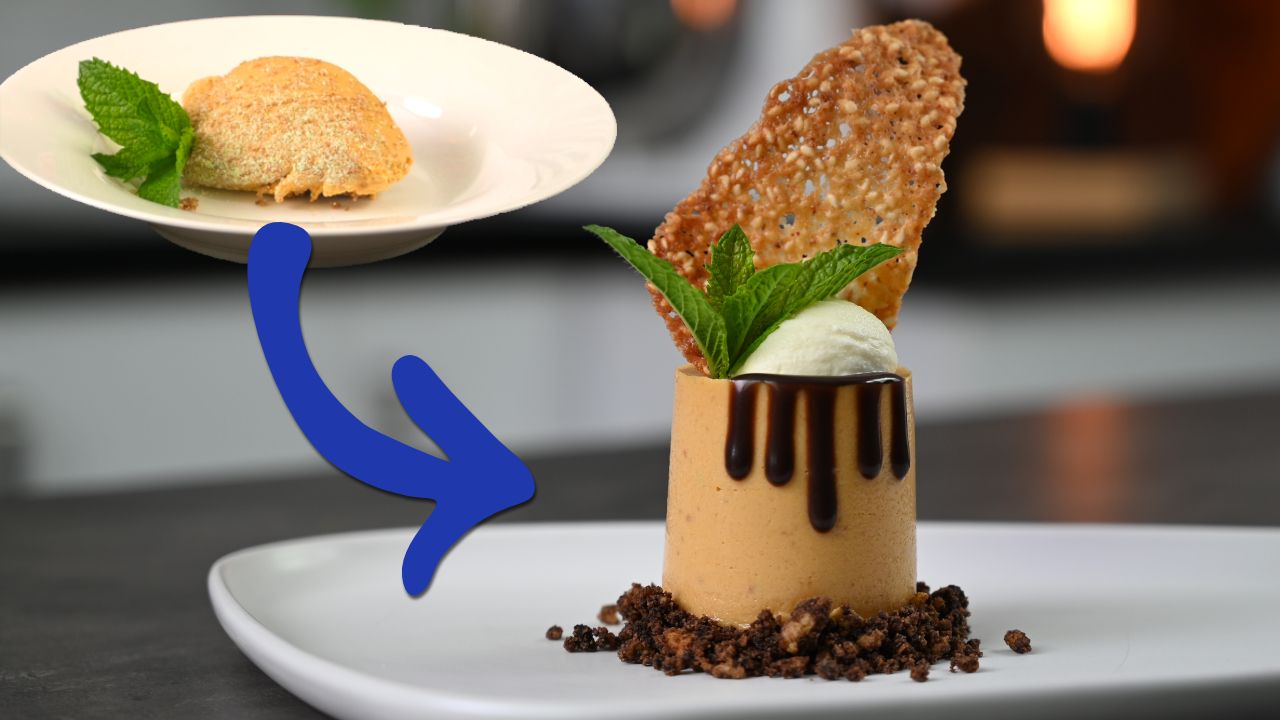 Peppermint Crisp Tarts
Ingredients:
250g (1 cup / 8 oz) fresh cream
400g (1 tin / 13 oz) caramel condensed milk, dulce de leche
1 bar (40g / 1 1/2 oz) of 'Peppermint crisp' or 'Mint aero', grated (keep a couple of squares for garnishing)
180g (6 oz) biscuit crumbs
50g (1 3/4 oz) butter, melted
2 tablespoons cocoa powder
1 tablespoon gelatine
Fresh mint to garnish
Method:
Prepare moulds* with oil based spray and a light dusting of icing sugar.
Bloom the gelatine in 2 tablespoons of cold water and set aside.
Mix the caramel condensed milk and grated peppermint chocolate together.
Whip the cream to soft peaks.
Melt the gelatine (approximately 10 seconds in the microwave, you don't want it to boil) and add to the caramel condensed milk. Mix it through.
Gently fold in the cream.
Pour into the prepared moulds.
To make the biscuit base, mix the biscuit crumbs, cocoa powder and melted butter together. If the mixture looks too dry add some more melted butter. You want the cocoa to be completely distributed, and the mixture crumbly.
*Traditionally the South African peppermint crisp tart would be made in a large shallow bowl. You would cover the base of the bowl with a layer of 'Tennis' biscuits and then pour the caramel mixture over the top. You can even make a couple of layers. It's such a versatile dessert, have a play and around and see what you can come up with.  For these desserts, I used small sections of PVC pipe as my moulds.
This recipe will make approximately 10-12 1/4 cup capacity moulds.
Sesame Tuile
Ingredients:
50g (1 3/4 oz) water
12g (1/2 oz) liquid glucose
60g (2 oz) butter
125g (4 oz) icing sugar
35g (1 oz) flour
60g (2 oz) ground almonds
60g (2 oz) sesame seeds
Method:
Mix the icing sugar, flour, ground almonds and sesame seeds together.
Put the water, liquid glucose and butter into a small pot and bring to the boil.
Once boiling, pour over the dry ingredients and mix until completely combined.
Leave to cool, before moulding, baking and shaping.
Tuile paste will keep in the fridge for a week or so, and this recipe will make a substantial amount of tuiles. Feel free to halve it.
Recipe of the Week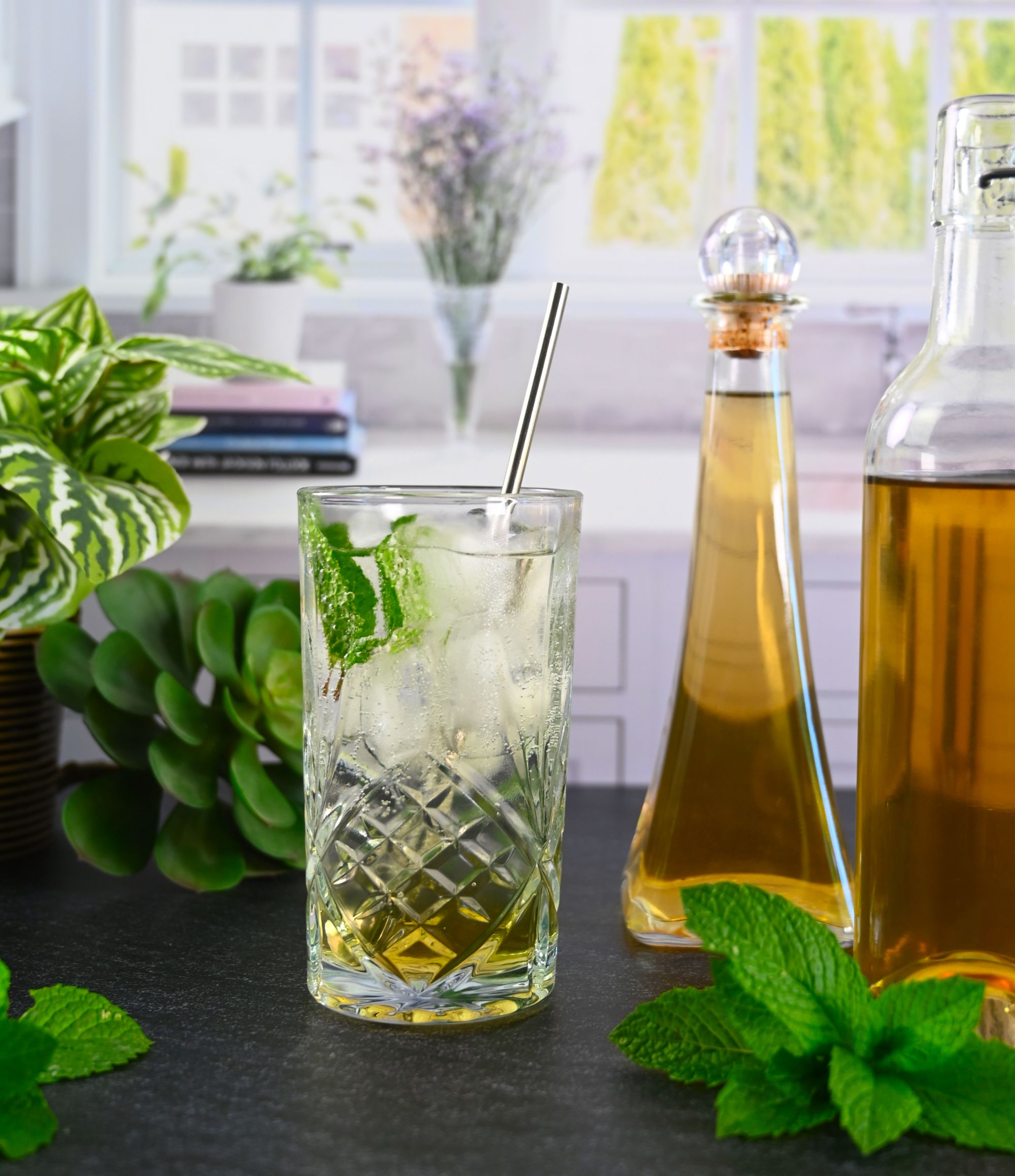 Making food isn't the only thing that can be made in the kitchen... We often forget how simple it is to create our own cordials and drink bases!
This week I've trimmed back my very overgrown mint plant, so instead of throwing out the trimmings I quickly boiled them up into a refreshing mint cordial. It's so easy to make and tastes delicious mixed with soda water.
You can also add the syrup to desserts, other drinks or actually any recipe you want to add a hint of mint flavour to.
If you're interested in trying it out, here's the recipe.
Ingredients:
35g (1 oz) fresh mint leaves
1 1/2 cups sugar
2 cups cold water
Method:
Put all the ingredients in a pot and heat slowly until the sugar has dissolved.
Simmer for about 5 minutes, and leave to infuse while it cools.
Strain and bottle ready to use.
Fun in the Kitchen
Birthday season has begun in our house. I don't often post cake photos or videos on the channel, but I do love making them.
Below is a photo of the top of a cake I made recently. The trees on this are super easy, in fact I completely forgot I was going to make some until I was almost finished icing this cake. I just piped a few chocolate stems and then added some green colouring to white chocolate to pipe the 'leaves' over the top. They dried within a few minutes and I was able to stick them into the cake.
I made the bike over a few days with fondant and royal icing, but if you really were pushed for time you could always just pop on a toy. I always set a personal challenge to make everything on a cake edible, so I took the hard path!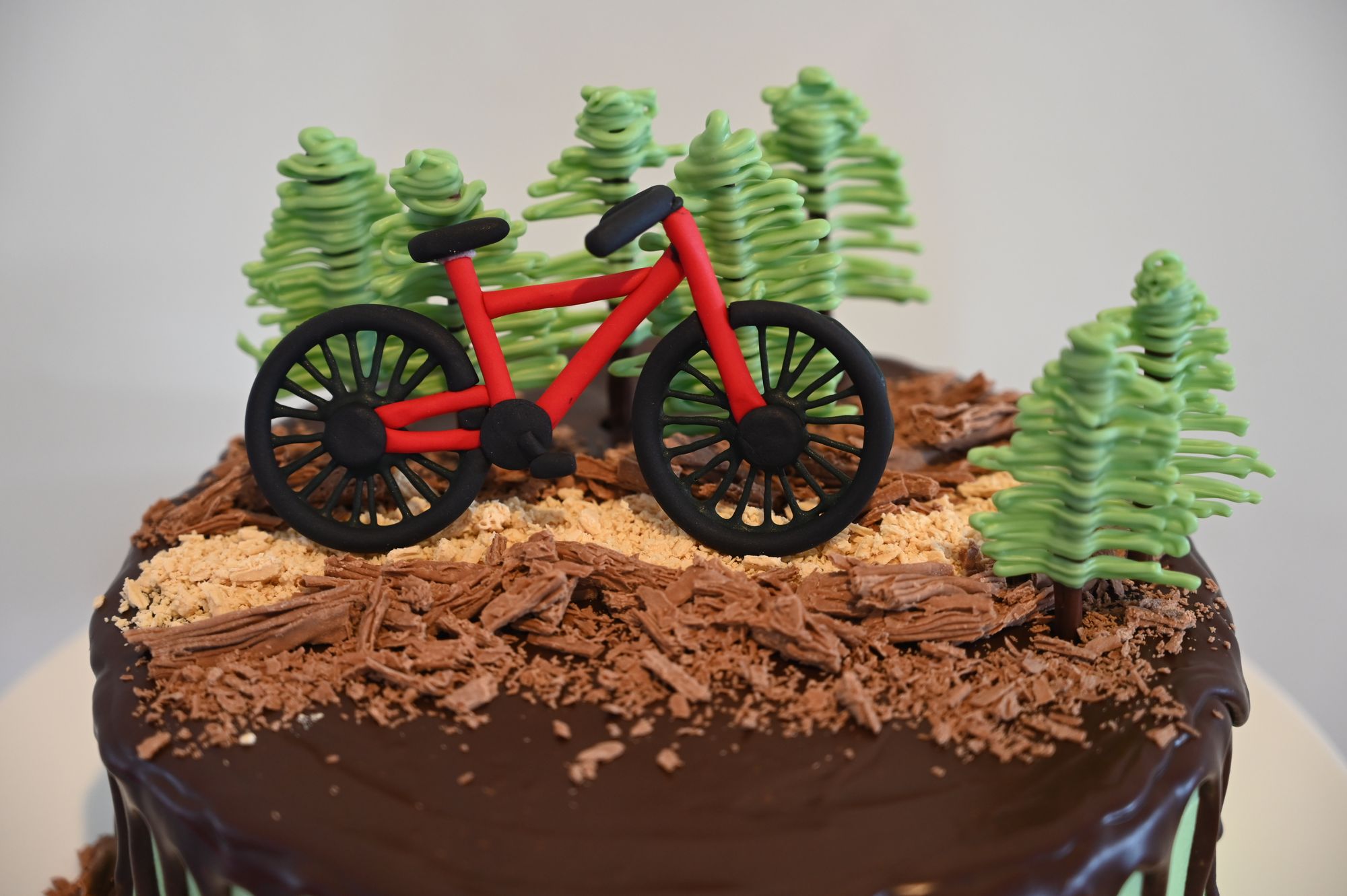 The cake was hummingbird flavoured, with a mint coloured salted caramel cream cheese/buttercream frosting and a chocolate ganache drip. The bike track is made from Flake chocolate bars.
How do you think it turned out?
Happy cooking,
Taryn