Delicious Donuts - Issue #16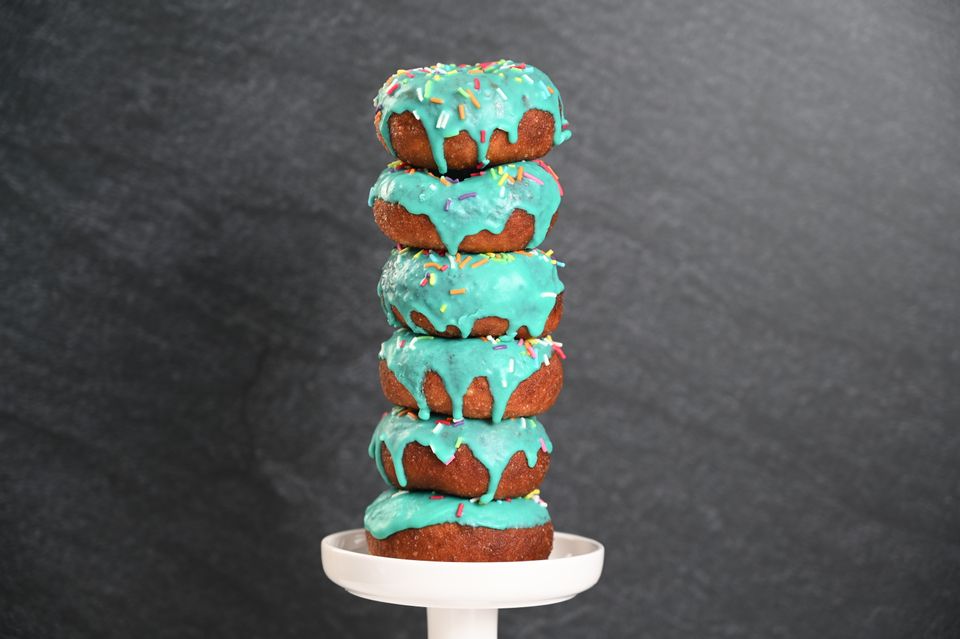 Hello Food Lovers,
Welcome to all our new subscribers and special thanks to those of you who have opted for the supporter tier. Your support means a lot to us and helps us to continue producing videos!
This week was my daughters birthday party. She isn't much of a cake fan, but give her a donut and she's super excited. See below for a quick 'cake' idea we came up with.
On a completely different note, when we're thinking about food plating it's often the sauce component (or the lack of one altogether!) that can bring down a meal in the presentation department. I enjoyed looking back at an older video, about how a simple pea puree can be used to enhance the presentation of a meal!
In this issue:
What's in the pipeline? - How to Plate Salad
Inspiration from my kitchen - Donut 'Cake'
Older video throwback - Pea Puree
What's in the Pipeline?
I've had a few people ask me recently for a video about how to plate salads.
Salads can be a really great way to show off your creative side, and they're a great make ahead entrée option too. But so often they end up looking rather boring because we default to throwing them together in a hurry...
There are so many different colourful and exciting ingredients you can use to make salads. They definitely don't need to look boring! Adding a delicious dressing is a must. With a few simple tweaks you can end up with a tasty and beautiful looking side dish or even a course on it's own.
I've been having a little play around, and will show you in the next video how you can create a classy individually plated salad.
I'm looking forward to sharing this video with you next week.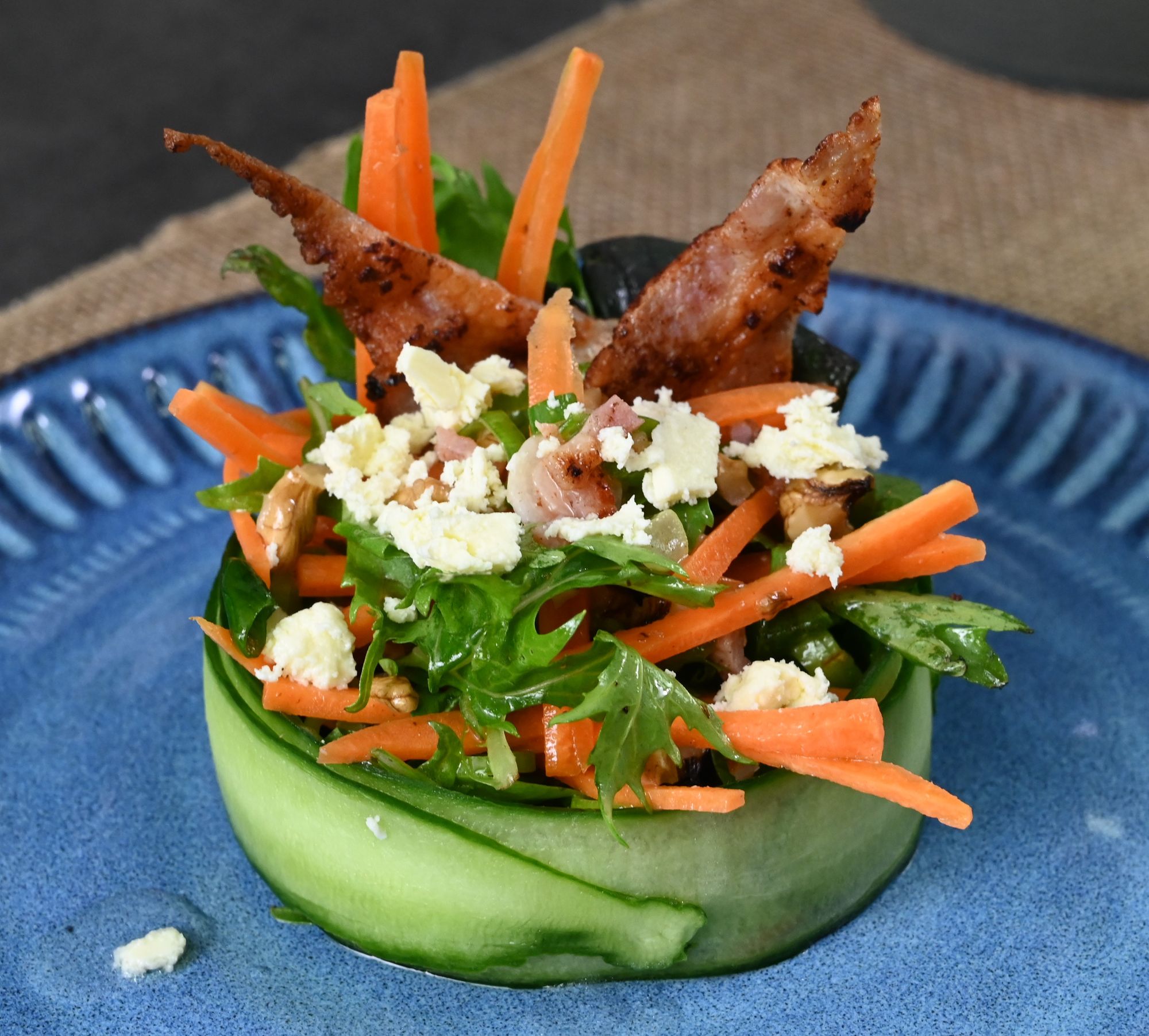 Inspiration from my Kitchen - Donut 'Cake'
As I said in the introduction to this newsletter, my daughter isn't much of a cake fan. In fact, more often than not she will eat the icing and leave the cake! So with a few friends coming around to celebrate, and not too much time to get creative, I decided to make a few donuts - her absolute favourite thing ever!
We often think of donuts as being something tricky to make, but in actual fact if you can make a bread dough - you're over half way there. Usually a donut dough is enriched with the addition of egg and butter, and of course sweetened with a bit of sugar. Once it has risen, you shape the donut balls and deep fry them. That's the hard part done.
I had fun decorating these with a teal blue coloured white chocolate ganache and sprinkles. Then I towered them up, added some candles and spilt a few extra sprinkles on the plate. We had a birthday 'cake' to celebrate with! Look at all those hands... grabbing every last sprinkle off the cake plate!
Do you think we should make a video about how to make and present simple homemade donuts? Let me know by replying to this email.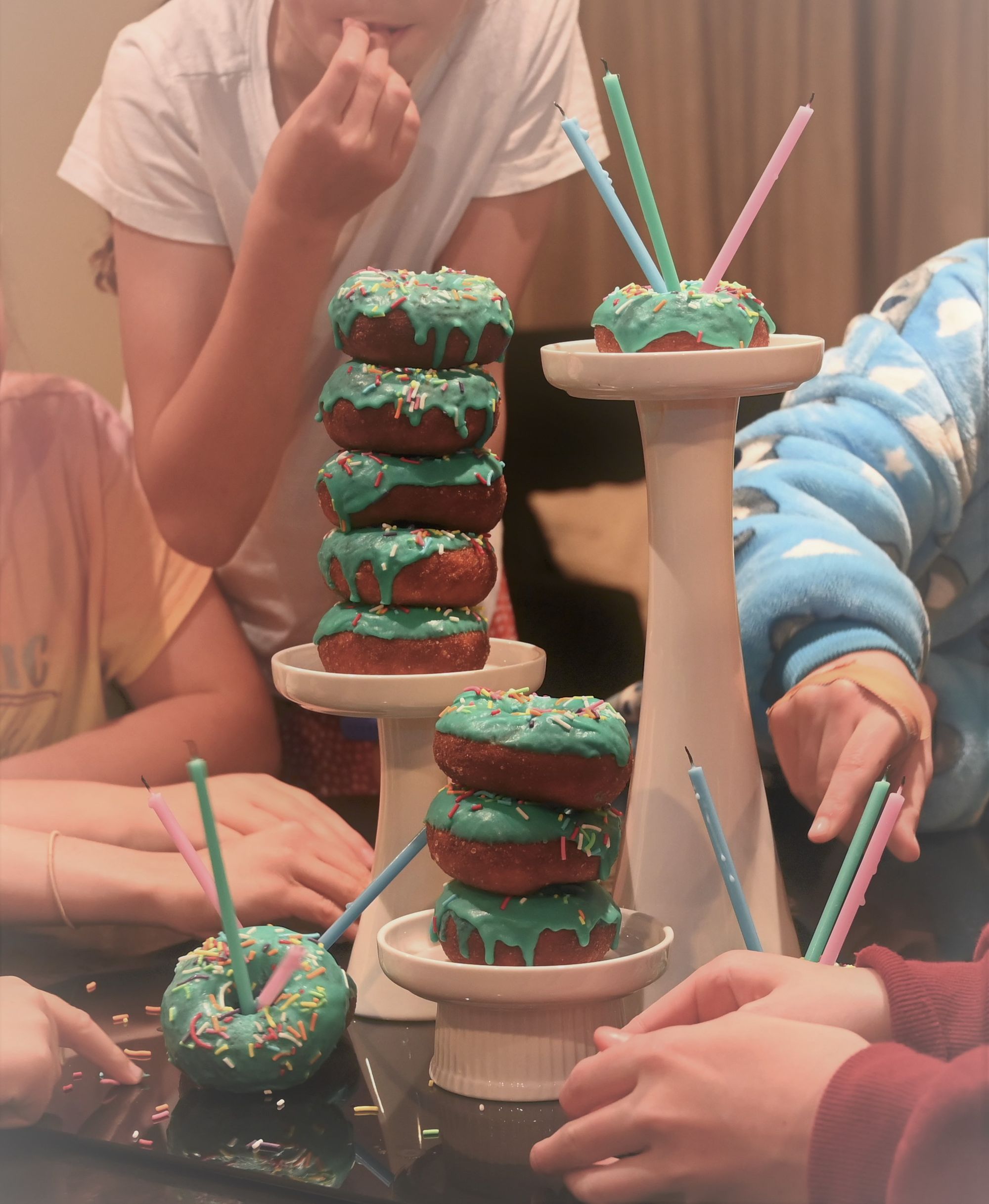 Donut recipe
Ingredients:
125g (4 oz) buttermilk (at room temperature)
15g (1/2 oz) butter, soft
1 egg
250g (8 oz) bakers flour
1.5 tsp yeast
1/4 tsp salt
30g (1 oz) caster sugar
Method:
Place the buttermilk and butter into the mixing bowl of a stand mixer (with the paddle attachment) and mix together for about a minute.
Add the egg and continue mixing until it is completely mixed through.
Change the paddle to a dough hook, and add the yeast, flour, caster sugar and salt. (It is important to add these ingredients in this order.)
Mix for about 4 minutes until it has come together as a dough and has been well kneaded.
Place the dough into a greased bowl or wrap in a silicone mat and leave to prove until it has doubled in size.
Once the dough has proved, knock it down on a lightly floured surface and roll into a long sausage.
Cut into 12 equal pieces. (You can weigh these out if you want to be precise.)
Roll each piece into a ball, then dip your index fingers into some flour and push one right through the middle of the ball. Use the other finger to help stretch the central circle out.
Leave on a mat for a further 15 minutes.
While the donuts are proving for the final time, warm up some oil in a small pot or use a deep fryer if you have one. I just use a small pot about half filled with oil. You need to warm it to about 85 degrees Celsius or 175 degrees Fahrenheit. (If the oil is too hot your donuts will very quickly colour on the outside, but still be raw on the inside.)
When the oil is ready, carefully add 2 or 3 donuts at a time. Turn them over a few times as they begin to colour. Depending on their size they should take roughly 5 minutes to cook through.
You can roll them in cinnamon sugar (approximately 1 teaspoon of cinnamon mixed with 1 cup of granulated white sugar) as soon as you take them out of the oil, or leave them to cool and dip them in a chocolate ganache and decorate with sprinkles.
Video Throwback - Pea Puree
Often it's the sauce component that can bring down our plating game. Sauces are such a great way to enhance food presentation, and they're so much easier to make than they seem!
This older video shows how I make a basic pea puree and use it to plate 3 different meals. You can experiment with lots of different vegetables to make a variety of different coloured purees too.
Have you made a puree before? What are some of your favourites?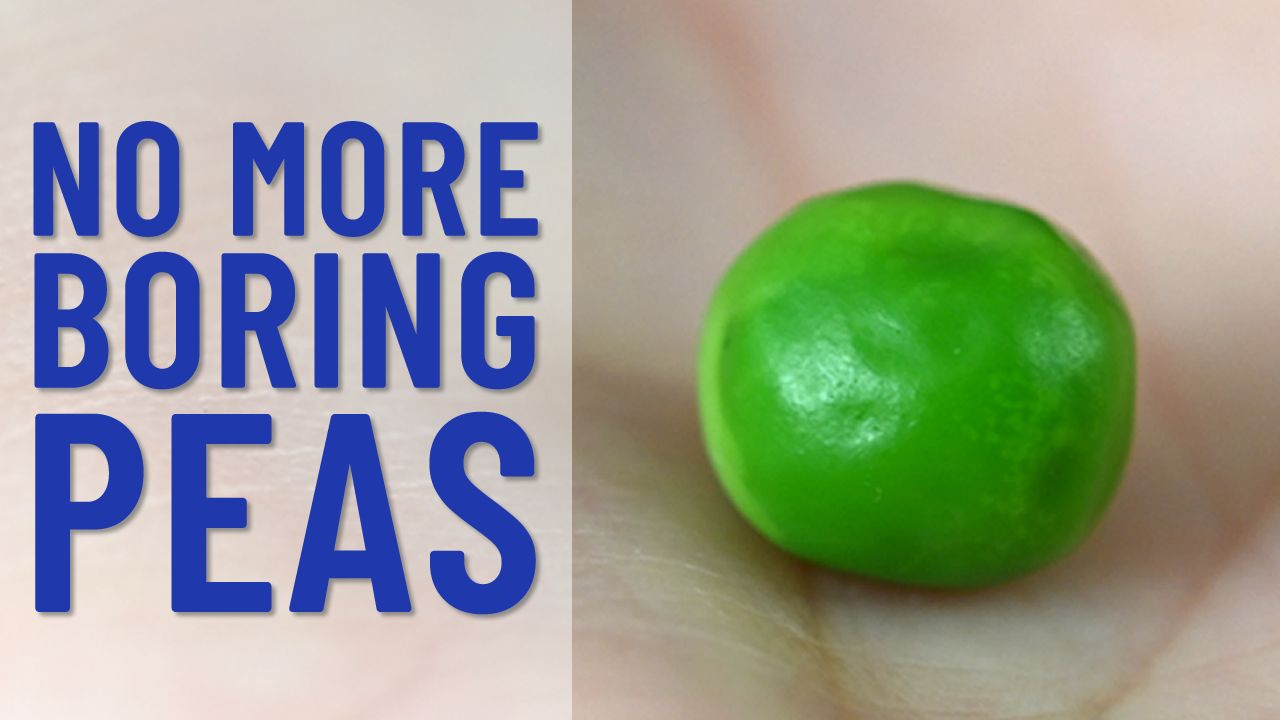 Happy cooking,‌‌
Taryn