Sensational DIY Sushi - Issue #31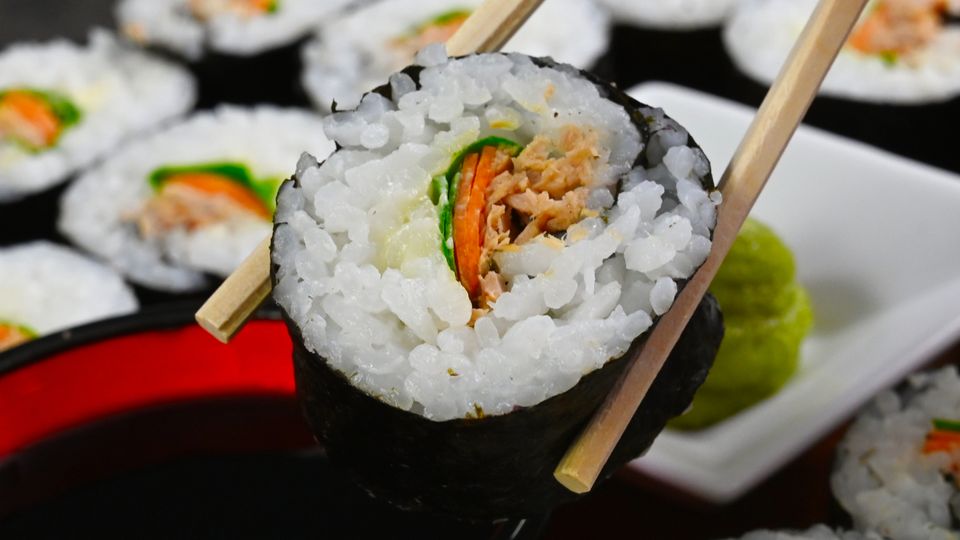 Happy Thursday!
Welcome to this week's edition of the Easy Peasy Kitchen newsletter! I hope you enjoy the kitchen tips and tricks shared in these newsletters and feel inspired to try some new things in your own kitchen.
Our latest video has just been published so head on over to discover the art of crafting your own delectable sushi. With skyrocketing food prices, this is your chance to savour these delectable treats without breaking the bank.
Get ready to tantalize your taste buds with a delightful twist. We've taken vibrant, seasonal lemons and transformed them into a tangy lemon honey that promises to add a burst of "wow" to your morning toast, muffins, cakes, and more.
But that's not all – ever thought of trying a wild and wonderful garnish to elevate your dish? We've got you covered. Explore a new texture you can add to your plated meals by using crispy deep-fried noodles as a garnish.
In this issue:
Fresh off the press - Easy DIY Sushi - A step-by-step tutorial
Garnishing ideas - Add Crunchy Texture with Rice Noodles
Ingredient spotlight - Lemons are in Season
Fresh of the Press...(+ Recipes)
Our latest video - Easy DIY Sushi - A step-by-step tutorial - has just been published.
In this video I'll guide you through the process of making simple maki sushi rolls at home. It's so much easier than you think and a whole lot cheaper than buying it! You don't need any special equipment and you can fill the rolls with whatever fillings you enjoy and have on hand.
Good homemade sushi starts with well prepared rice, so this video also covers some quick tips for cooking sushi rice. If you follow these tips you'll be well on your way to making your very own delicious sushi.
Making sushi is one of our favourite camping meals, but it's also a great crowd pleaser for your next get together. I'm sure after watching this video you'll have the confidence to give it a go yourself.
You can have a look here...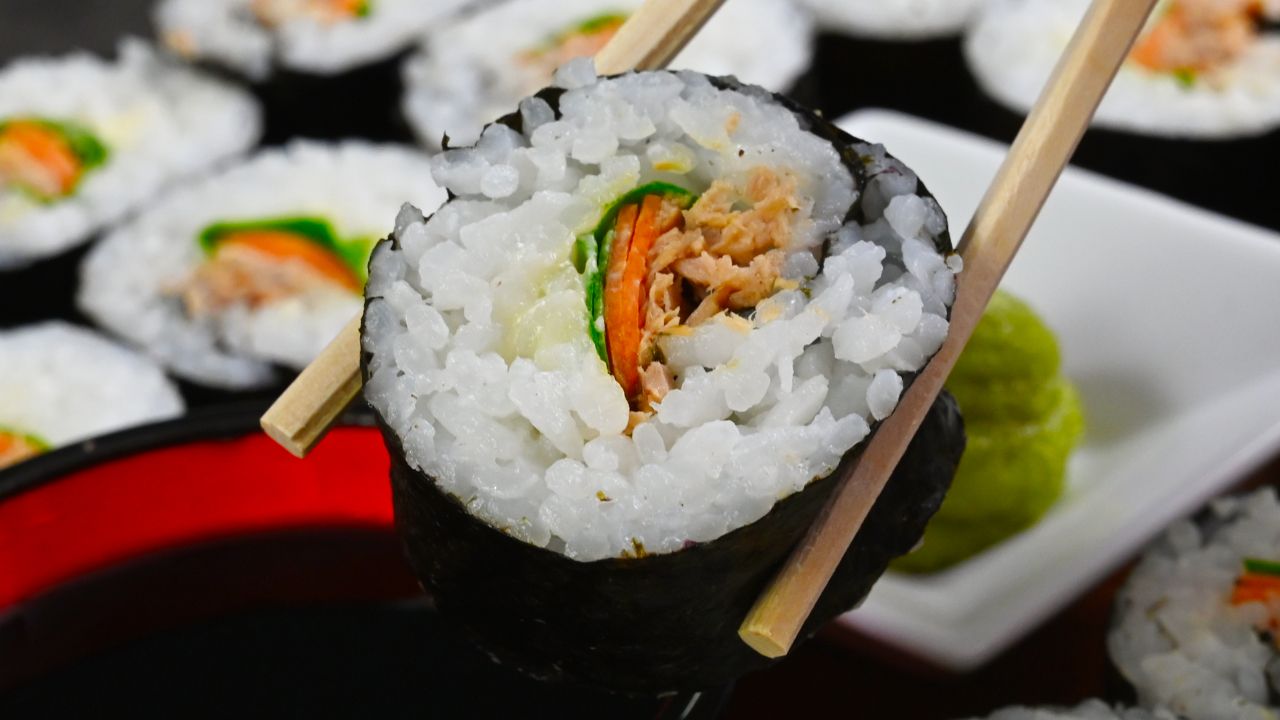 Sushi Maki Rolls
This recipe makes approximately 5 full rolls.
Ingredients:
2 cups sushi rice (short grain/Arborio)
3 cups water
1/4 cup approx. rice wine vinegar
Roasted seaweed sheets (nori sheet)
Kewpie mayonnaise (or any mayo based spread will work)
Fillings (I used tinned tuna, spinach leaves and carrot)
Pickled ginger
Soy sauce
Wasabi paste
Method:
Wash the rice in a colander under running water until it runs clear.
Put it into a pot with a tight fitting lid.
Add the water and a teaspoon of salt. Turn on the heat and cover with the lid.
When it's boiling rapidly, turn off the heat. Don't touch the lid and leave it on the element for about 30mins for the rice to absorb the liquid.
Take the rice out of the pot and put it into a shallow bowl to cool.
Generously drizzle over the rice wine vinegar.
Prepare the filling ingredients, drain the tuna, grate the carrot into ribbons.
Spread out sushi sheets (shiny, smooth side down. Lines running vertically)
Pat on the rice using wet hands. Leave about 1 inch at the top and bottom free and try to keep it an even thickness all over.
Add a strip of mayonnaise, then add the rest of the fillings.
Wet the top edge of the seaweed paper with wet fingers.
Carefully and tightly roll up the sushi.
Set aside while you repeat this process.
Cut and serve with the ginger, wasabi and soy sauce.
Other great fillings are salmon, crab sticks, avocado, raw fish (make sure you get sushi quality fish), cucumber, spring onions, prawns, etc.
Garnishing Ideas - Add Crunchy Texture With Rice Noodles
Last week, I treated myself to an amazing pork belly salad at a local eatery. The medley of flavours was amazing with zesty citrus undertones. It also had a satisfying crunch of shallots, tart pickled onions, and a delectable dressing that's a non-negotiable for any salad lover. Yet, what truly caught my attention was the crispy fried noodle garnish that added an intriguing twist.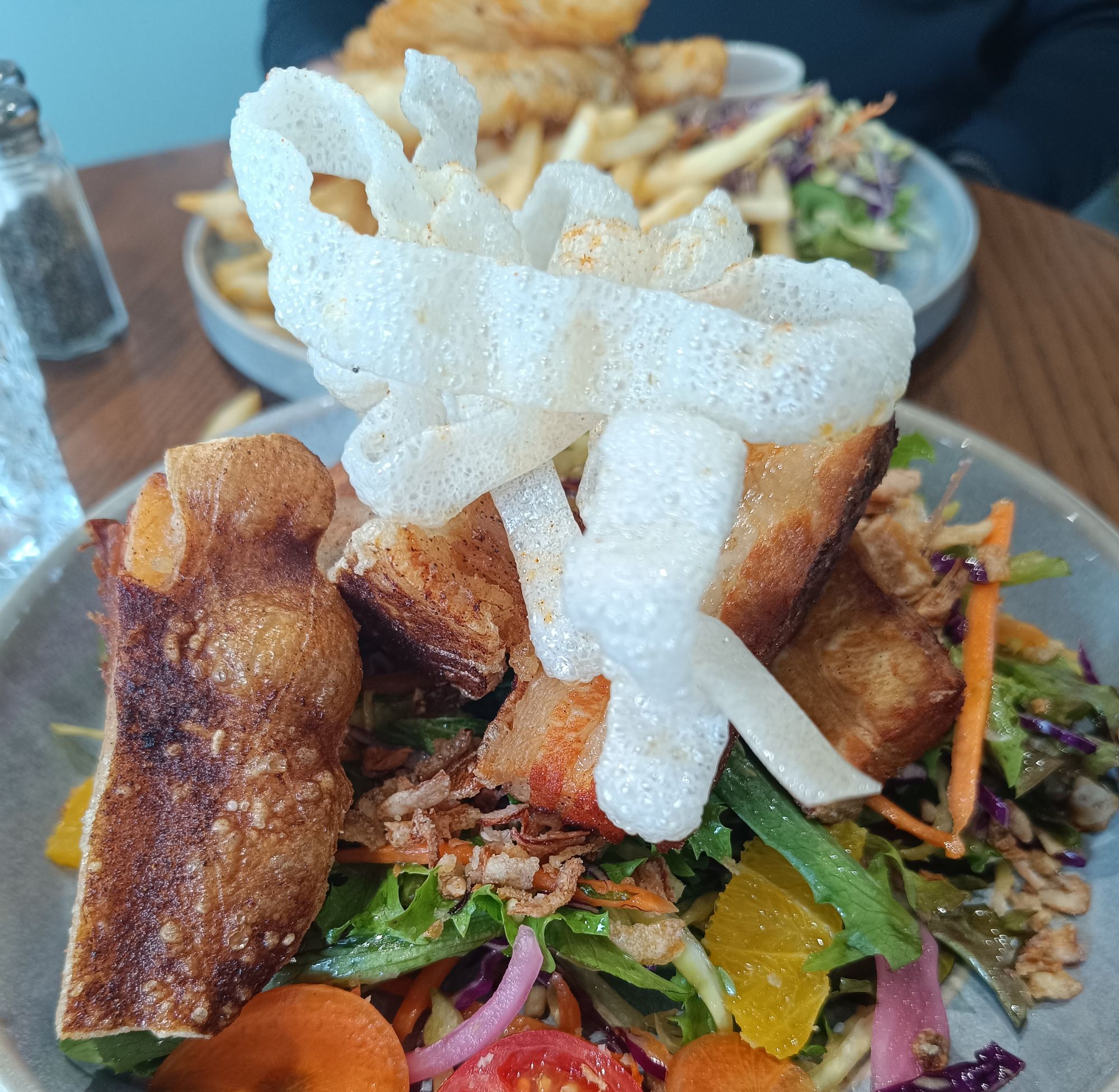 Feeling inspired, I decided to recreate the magic at home. I placed a pot of oil on the stove, and it was so satisfying to watch the rice noodles dance and puff up as soon as they made contact with the sizzling hot oil. Restaurants have their commercial deep-fryers, but with a simple pot, the result at home was equally delightful.
These are some tips I have after making a few myself:
Make sure you oil is super hot (220 degrees Celsius or 400 degrees Fahrenheit)
Test the oil with a little piece of rice noodle, if it doesn't puff up straight away it isn't hot enough. You really need the heat otherwise the noodle gets oil logged and isn't as nice to eat.
You can add a spice as soon as it comes out of the oil, to give these a bit of flavour. They're pretty bland just left as they are.
They're best made only a few hours before you intend on using them if you want them to be super crunchy.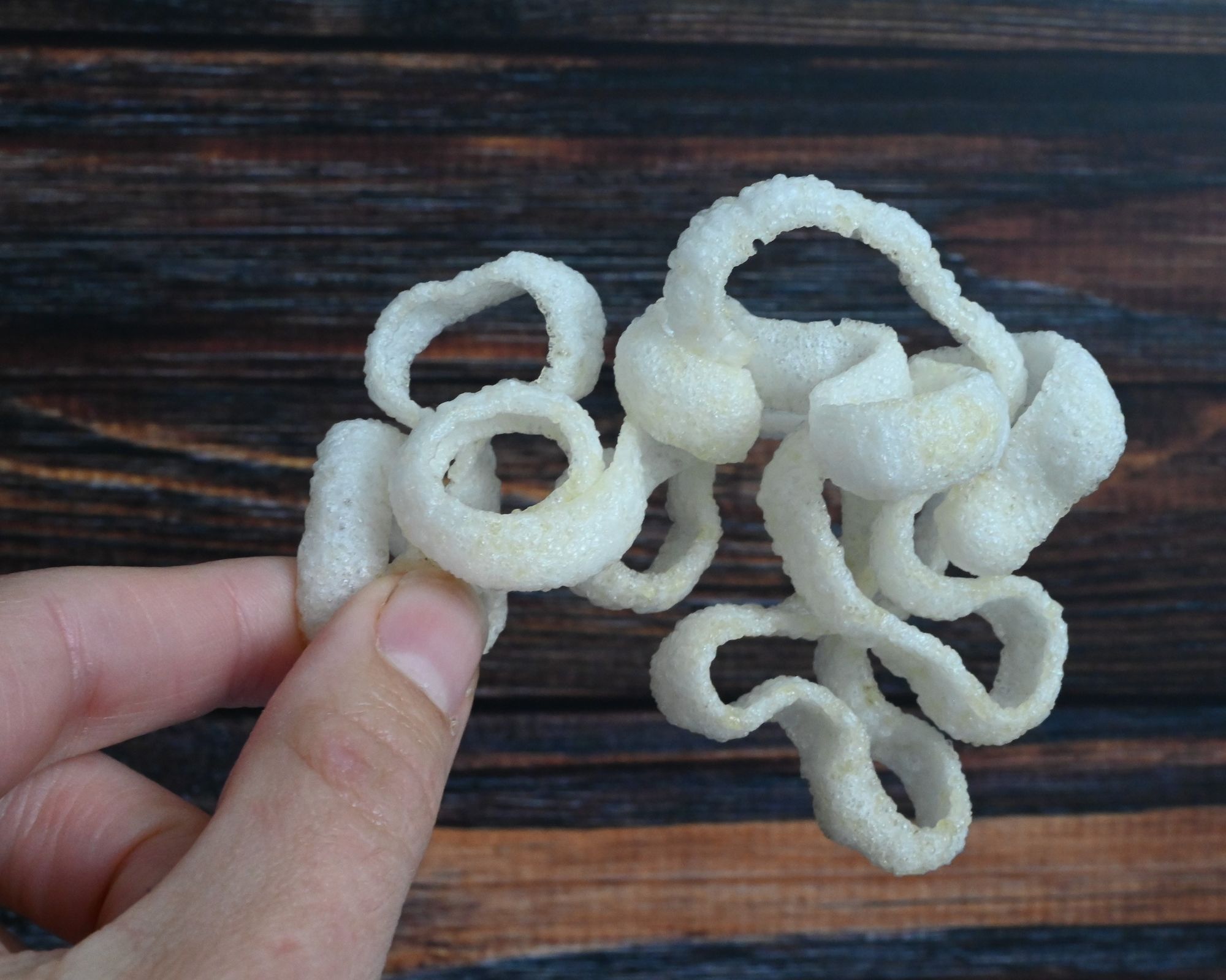 Ingredient Spotlight - Lemons Are In Season
I absolutely love lemons! They're a true culinary wonder, aren't they? Their vibrant zest and tangy juice have this incredible knack for transforming ordinary dishes into extraordinary delights. From zesty marinades that wake up grilled chicken to refreshing lemonade that beats the heat, lemons are an essential ingredient - especially when they're in season!
One of my favourite lemon creations is a lemon curd. It's a velvety, citrus-infused spread that's the perfect balance of sweet and tart. This lemony goodness can be dolloped onto scones for a tea-time treat, layered between cake for a burst of flavour, or even swirled into creamy yoghurt for a morning pick-me-up.
But that's just the beginning! Lemons are the secret behind a delicious vinaigrette that jazzes up salads, and they add that extra zing to countless sauces and dressings. And let's not forget their magical ability to tenderize meat and add a punch of flavour to roasted vegetables.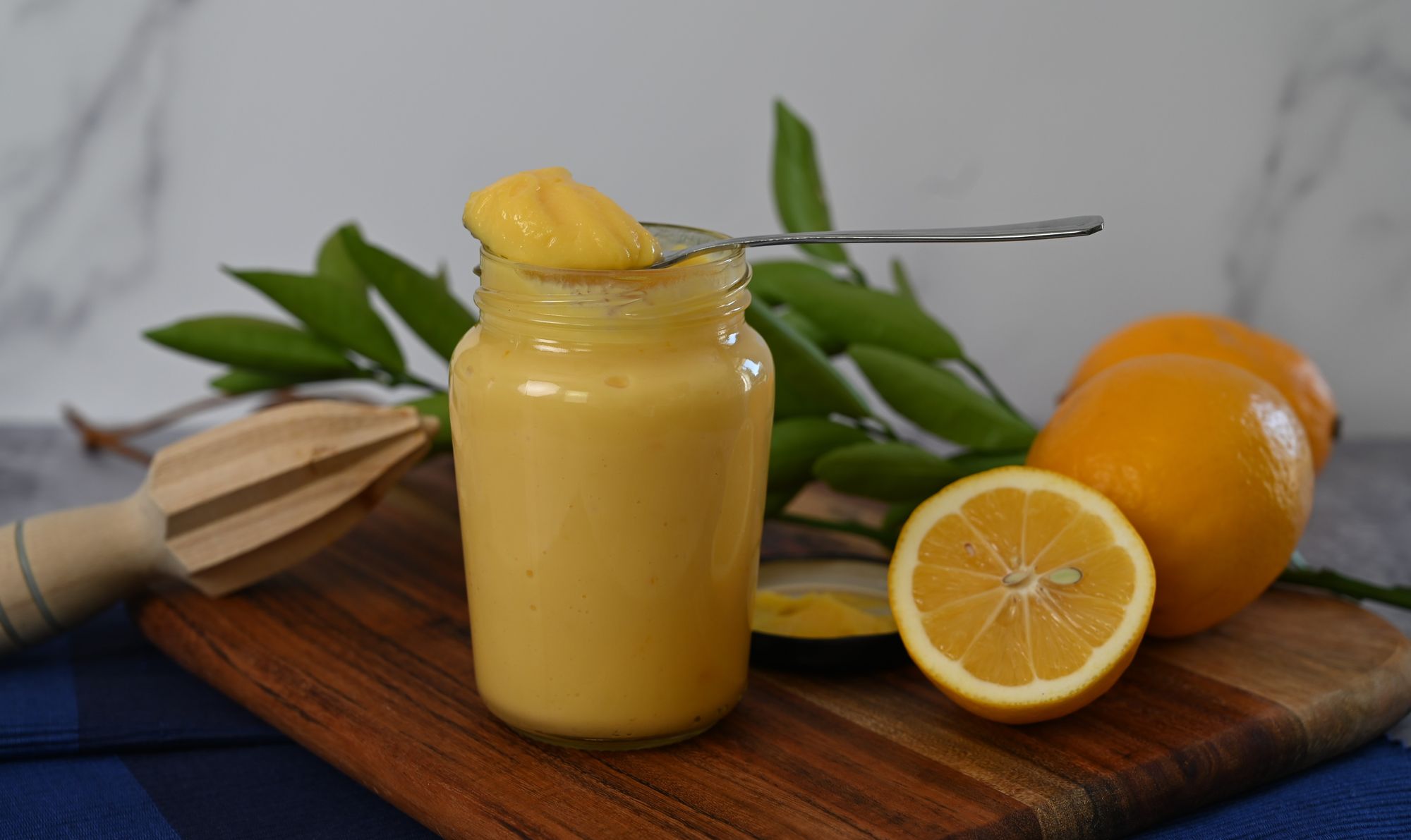 I'd love to know what some of your favourite lemon dishes/uses are so I can try out some new things. Would you like the recipe for this lemon curd? Email me!
Happy cooking,
Taryn