Plated Entrée in Minutes - Issue #8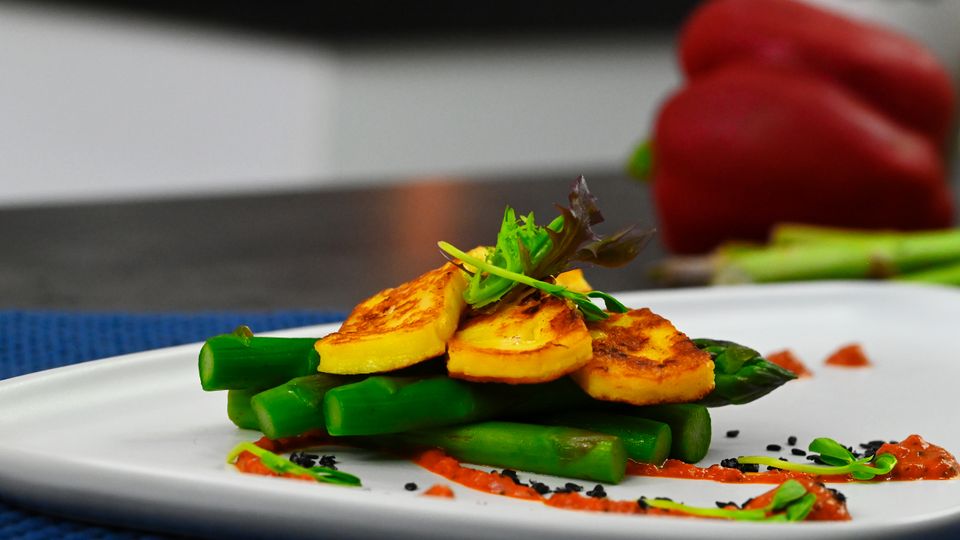 Hello to you all.
First things first… I'm sorry I made a mistake in the recipe for the lemon and cream cheese spread from the last issue. I used cream cheese and mayonnaise, but forgot to put the mayonnaise in the recipe. I have added the corrected recipe in the recipe section of this newsletter.
Do you have lots of rhubarb at the moment? I love the tangy flavour of rhubarb and love how it's so easy to grow. In this issue I'll share some different things you can make with it. I hope you enjoy getting creative and trying some new ideas too.
In this issue:
Fresh off the press (+ Recipes) - How to create a simple entrée - featuring halloumi cheese and asparagus
Inspiration from my kitchen - Throwback to making rhubarb champagne
Q&A - Can you make savoury dishes with rhubarb?
What's in the pipeline? - Making a sesame tuile to enhance your dessert
Fresh off the press... (+ Recipes)
Our latest video has just been published - How to create a simple entrée - featuring halloumi cheese and asparagus!
In this video you'll learn how easy it is to make and plate a simple entrée.
First we'll make a delicious roasted red pepper sauce, which has many other uses too! (So it's a great condiment to have in your fridge). Then we'll prepare some asparagus and halloumi cheese, and plate an entrée 2 different ways.
Hopefully after watching this video you'll be feeling creative, and maybe you can create your own simple plated entrée with things you already have in your fridge or pantry.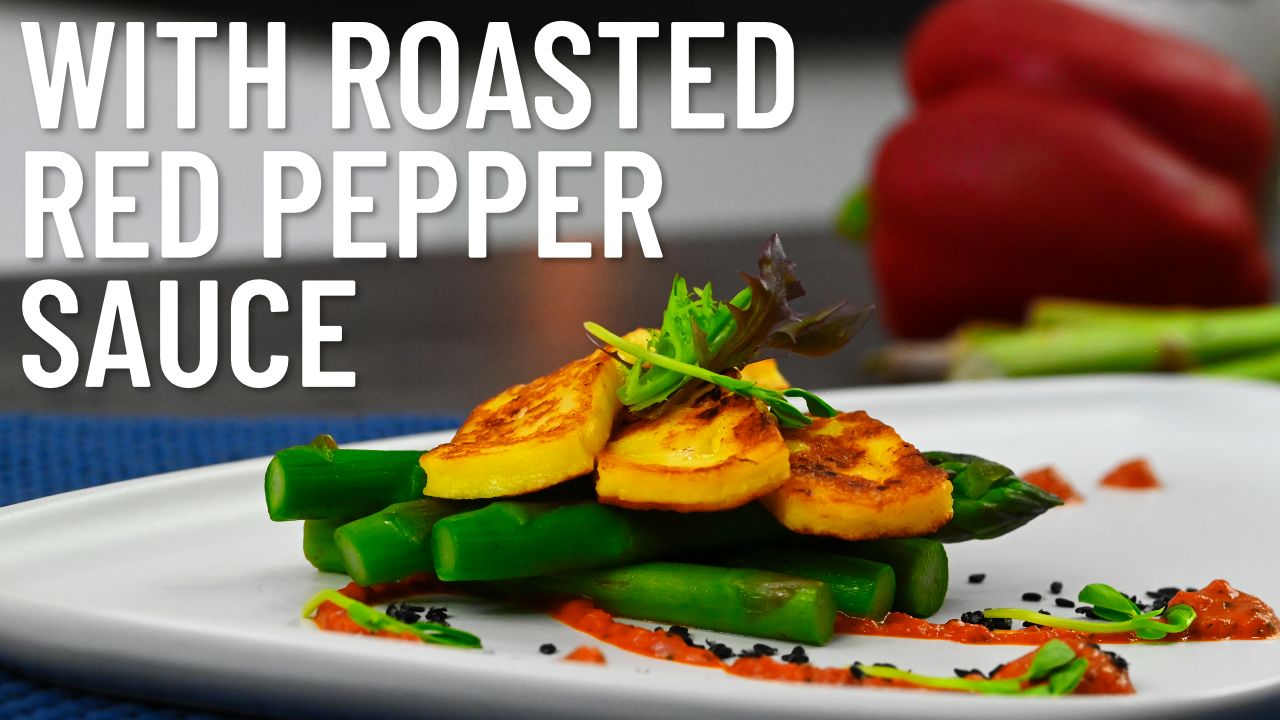 Roasted Red Pepper Dip
Ingredients:
2 red peppers (bell peppers/sweet peppers/capsicum), cut and deseeded
1/4 onion (red or white), cut into chunks
2 cloves garlic, peeled
3 sprigs fresh thyme
3 sprigs fresh parsley, chopped
2 tablespoons Worcestershire sauce
4 tablespoons butter, melted
Salt, pepper, sugar to taste
Method:
Roast the capsicums, onion and garlic with a drizzle of oil, a sprinkle of salt and a few fresh thyme leaves for about 15 minutes in a hot oven. (180 degrees Celsius / 350 degrees Fahrenheit).
Put it into a blender (discard any burnt bits).
Add the melted butter, Worcestershire sauce, chopped parsley and blend together until smooth.
If you want to adjust the consistency you can add some extra oil or butter.
Season it. You can also add some sugar if you want it slightly sweeter, or chilli sauce if you want to add a bit of spice.
If you don't have fresh capsicums, this sauce can also be made with bottled red capsicums. Just make sure they are well drained and dried, otherwise the sauce turns out very runny. I sometimes microwave the capsicums after straining them to extract a bit more liquid before I blend it all together.
Asparagus and Halloumi Entrée
Ingredients for two portions:
6 fresh asparagus spears
6 thick slices halloumi cheese
1/4 cup red pepper dip
1 teaspoon black or white sesame seeds
Leafy salad greens or microgreens
Oil for frying
Salt
Method:
Trim asparagus spear ends and cut in half.
Blanch in boiling water and then dip straight into iced water.
Fry the halloumi cheese slices in a drizzle of oil until golden.
Briefly fry the asparagus to warm it through.
Have fun plating it :)
Corrected Lemon and Cream Cheese Spread recipe from Issue #7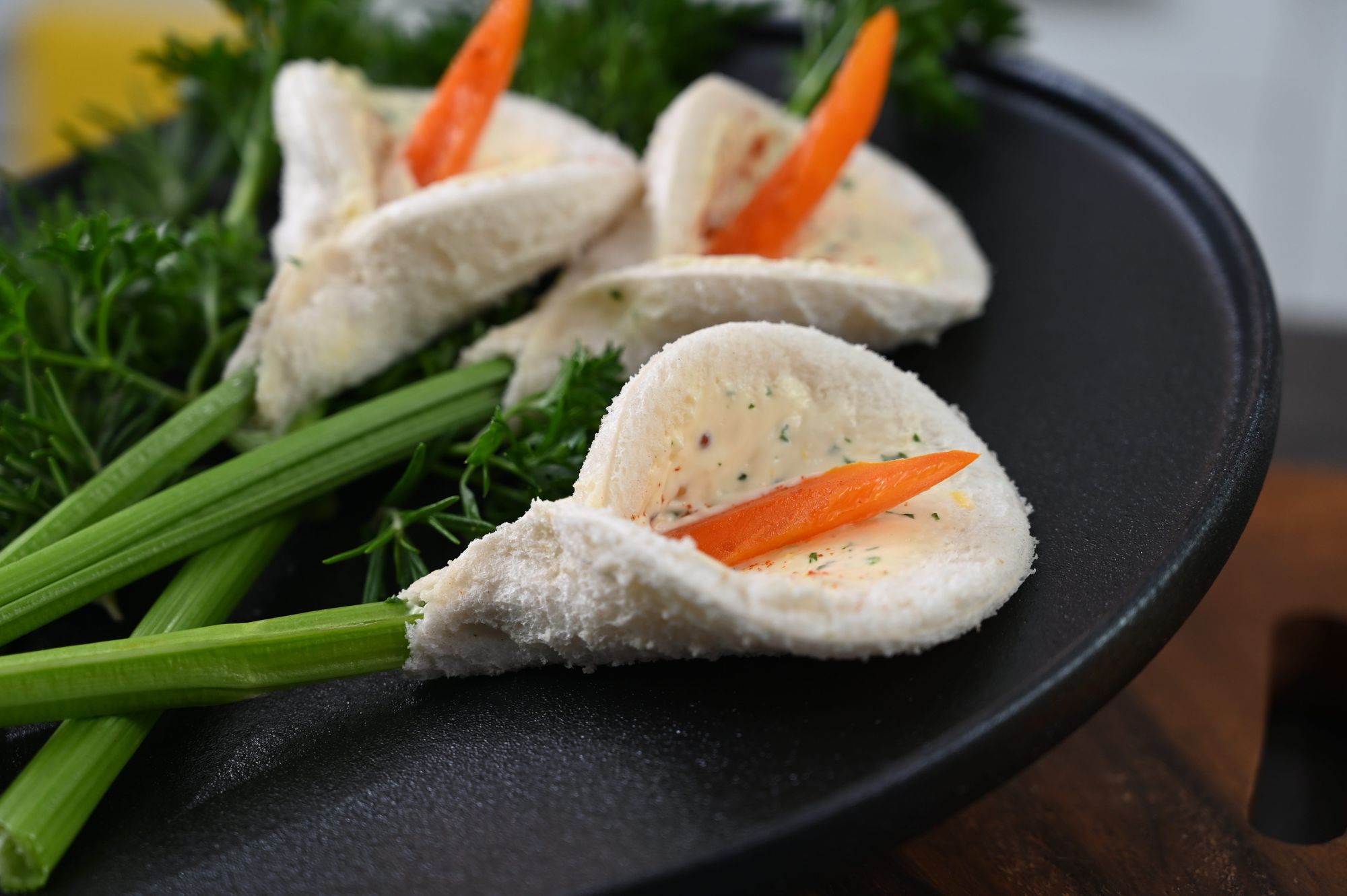 Ingredients:
1/2 cup cream cheese, at room temperature
1/4 cup mayonnaise
1 lemon zest and juice
2 tablespoons fresh parsley, finely chopped
Salt and pepper
Method:
Soften cream cheese with a fork and mix in the mayonnaise until smooth.
Add the lemon zest and parsley, and mix together.
Add lemon juice until a desired consistency is achieved.
Season with salt and pepper.
Q&A
Q: I have an abundance of fresh rhubarb growing in my garden and have made lots of sweet muffins, shortcakes and crumbles etc, but are there any savoury dishes I can make with it?
A: Yes, rhubarb is a fantastic vegetable with lots of great health benefits and is delicious in sweet pies and muffins etc, but it can definitely be used in savoury dishes too. I recently made a slow cooked fruity chicken curry dish and threw in a few stalks of rhubarb. It stewed down and almost gave a bit of a sweet/sour flavour. You can also make chutney, BBQ sauce and dressings with it which are great additions to savoury meals too.
Chicken and Rhubarb Curry Recipe
Ingredients:
8 chicken drumsticks or thighs
2 tablespoons oil
2 red onions, sliced
4 cloves of garlic, crushed
1 tablespoon black pepper
2 teaspoons turmeric
2 teaspoons curry powder
1 can (400g / 14oz) chopped tomatoes
3 tablespoons honey, you can add more to your taste
1 lemon or lime, juiced
3 rhubarb stalks, chopped into small pieces
1 cup chicken stock
Salt
Method:
Heat the oil in a pan and fry the chicken until browned all over.
Put into a slow cooker (or set aside if you're going to cook it on the stove top).
Fry the onions and garlic until softened.
Add the turmeric, curry powder and black pepper.
Add the tomatoes, honey, citrus juice and rhubarb and bring to the boil.
Add the sauce to the slow cooker, along with the chicken stock and cook on high for approximately 4 hours. (if the sauce is looking too runny, thicken with a cornflour slurry after about 3 hours)
If cooking on the stovetop, add the chicken back to the pan along with the chicken stock (if cooking on the stove top you might need to double the stock because it reduces a lot more than in the slow cooker) and simmer gently for about an hour, stirring from time to time.
Adjust the taste with salt, more honey or citrus juice.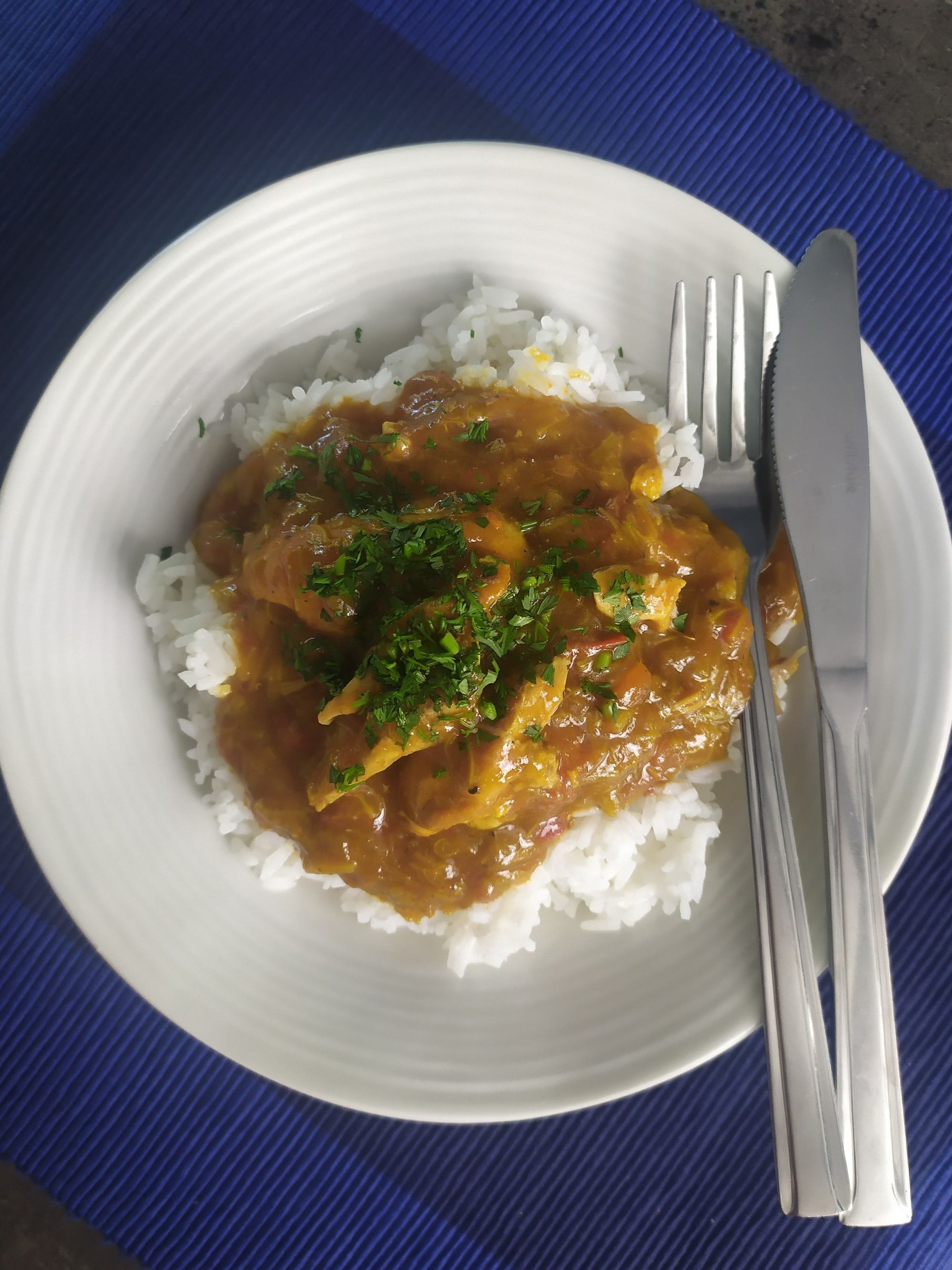 Inspiration from my kitchen
After having been asked about some savoury rhubarb options, I remembered another fantastic thing you can do with rhubarb. You can make some rhubarb champagne! It sounds fancy doesn't it, but it's really just a delicious fizzy rhubarb drink. Here's a link to an older video (one of my very early ones!) where I show you how to make it.
I'd love to know if you have any different things you make with an abundance of rhubarb?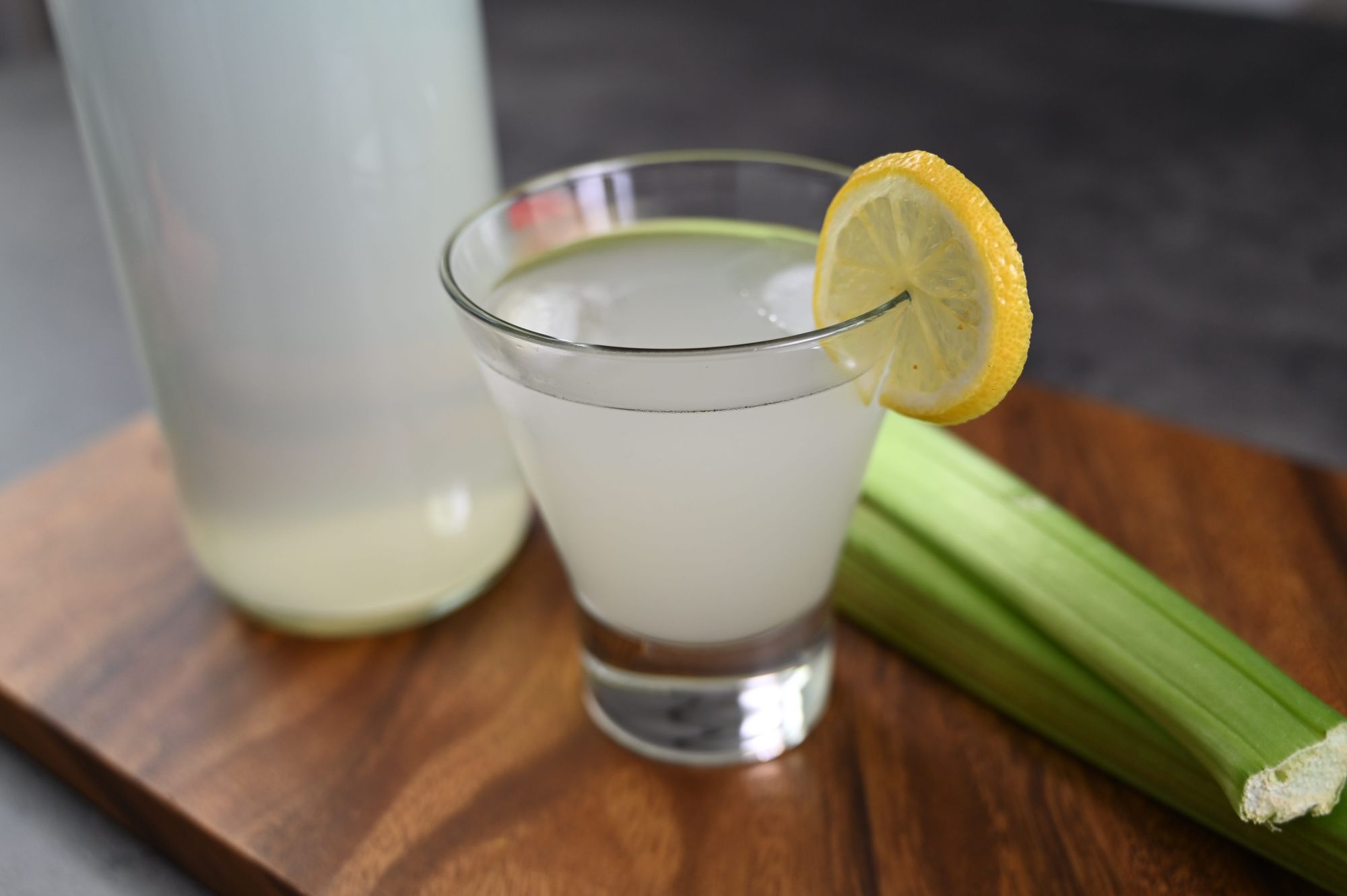 What's in the pipeline?
I've had so much fun playing around with different tuile pastes and can't wait to show you how to make and use these delicious sesame tuiles. They're a bit different to the basic tuile, but you can use them the same way to enhance your desserts and add a crunchy texture. They're delicious to eat just like that too!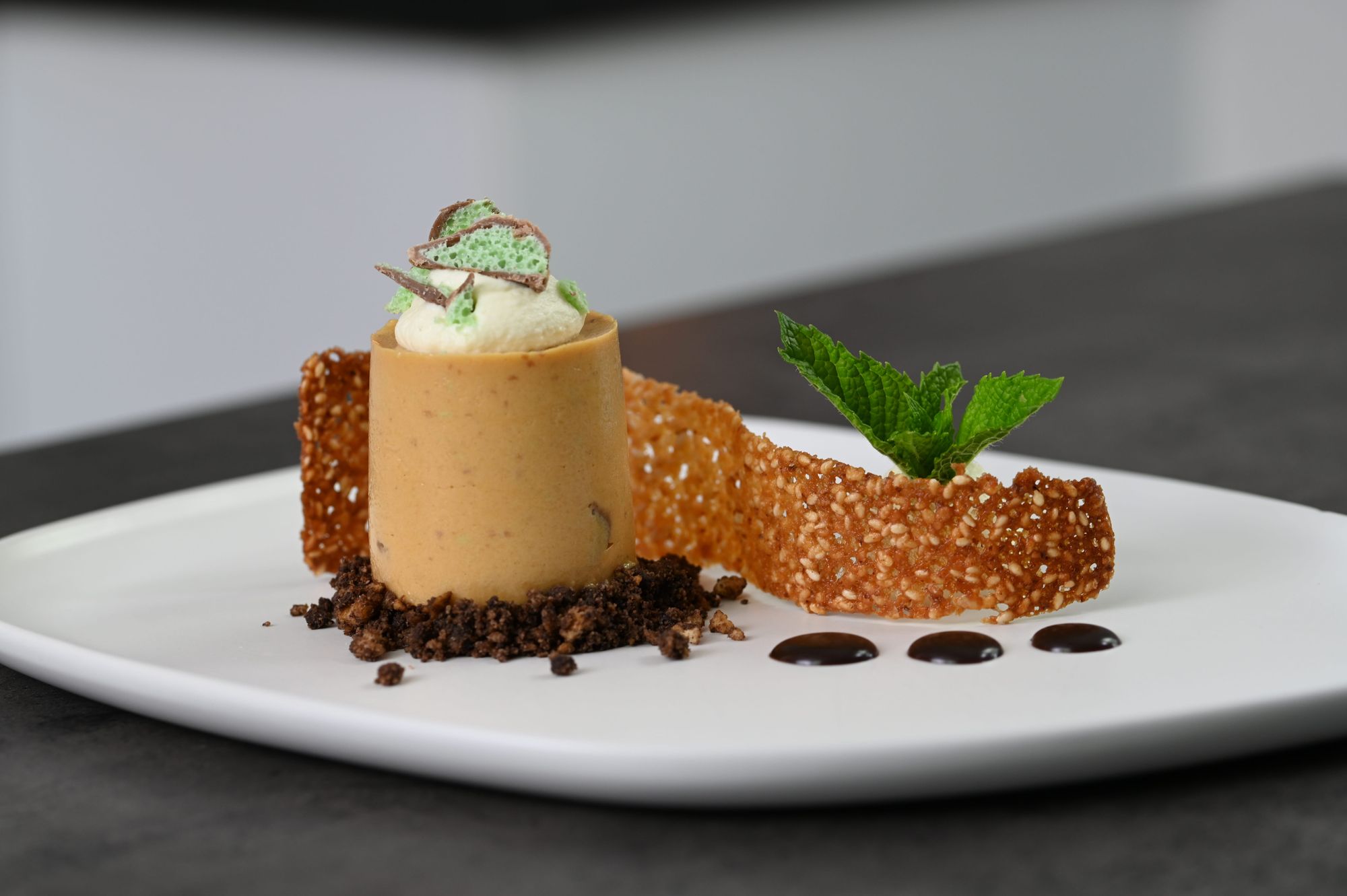 See you next time and happy cooking and creating delicious things until then,
Taryn