Delicious Dessert Ideas - Issue #9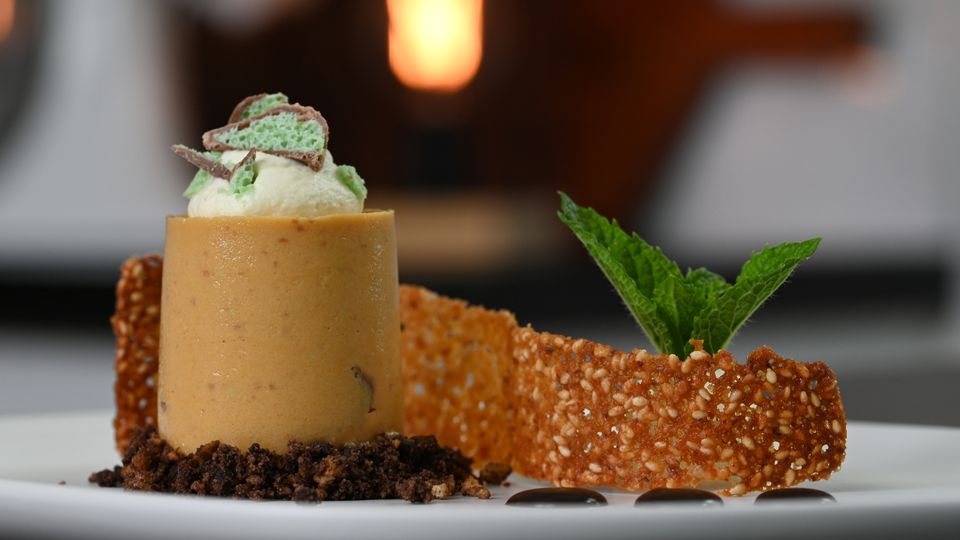 Hello Food Lovers,
I don't know about you, but when autumn sets in and the weather cools down I start to crave warm desserts and sweet treats… it's not a good habit to get into!
With the change of season, new seasonal fruits and vegetables become readily available. Blackboy peaches, feijoas and of course apples among other things are popping up at the vegetable shops here.
I hope you give the sticky caramel apple self-saucing pudding in this issue a try - it really is delicious!
In this issue:
Fresh off the press (+ Recipes) - Elevate your Dessert with a Sesame Tuile
Inspiration from my kitchen - Apples are in season!
Q&A - What is the difference between black and white sesame seeds? Are they interchangeable?
What's in the pipeline? - Easy Cold Hors d'oeuvres
Fresh off the press... (+ Recipes)
Our latest video - Elevate your Dessert with a Sesame Tuile - has just been published.
Tuile biscuits can be made in so many different ways and they will always elevate your dessert. In this video we learn the in's and out's of making a sesame tuile. Hopefully by the end the video you'll have another great way to up your dessert plating game.
As always we won't just make these crunchy little biscuits, we'll show you how you can use them, and plate up a dessert in a fine dining style.
We'll also discuss the different components needed to make a perfectly plated dessert.
I've used a South African Peppermint Crisp Tart (recipe below) to showcase this tuile idea today, but this will work with any cold set dessert. Hope you have fun recreating some of your favourite recipes.
Click on the video to have a look…
Sesame Tuile
Ingredients:
50g (1 3/4 oz) water
12g (1/2 oz) liquid glucose
60g (2 oz) butter
125g (4 oz) icing sugar
35g (1 oz) flour
60g (2 oz) ground almonds
60g (2 oz) sesame seeds
Method:
Mix the icing sugar, flour, ground almonds and sesame seeds together.
Put the water, liquid glucose and butter into a small pot and bring to the boil.
Once boiling, pour over the dry ingredients and mix until completely combined.
Leave to cool, before moulding, baking and shaping.
Tuile paste will keep in the fridge for a week or so, and this recipe will make a substantial amount of tuiles. Feel free to halve it.
Peppermint Crisp Tarts
Ingredients:
250g (1 cup / 8 oz) fresh cream
400g (1 tin / 13 oz) caramel condensed milk, dulce de leche
1 bar (40g / 1 1/2 oz) of 'Peppermint crisp' or 'Mint aero', grated (keep a couple of squares for garnishing)
180g (6 oz) biscuit crumbs
50g (1 3/4 oz) butter, melted
2 tablespoons cocoa powder
1 tablespoon gelatine
Fresh mint to garnish
Method:
Prepare moulds* with oil based spray and a light dusting of icing sugar.
Bloom the gelatine in 2 tablespoons of cold water, set aside.
Mix the caramel condensed milk and grated peppermint chocolate together.
Whip the cream to soft peaks.
Melt the gelatine (approximately 10 seconds in the microwave, you don't want it to boil) and add to the caramel condensed milk. Mix it through.
Gently fold in the cream.
Pour into the prepared moulds.
To make the biscuit base, mix the biscuit crumbs, cocoa powder and melted butter together. If the mixture looks too dry add some more melted butter. You want the cocoa to be completely distributed, and the mixture crumbly.
*Traditionally the South African peppermint crisp tart would be made in a large shallow bowl. You would cover the base of the bowl with a layer of 'Tennis' biscuits and then pour the caramel mixture over the top. You can even make a couple of layers, it's such a versatile dessert, have a play and around and see what you can come up with. For these desserts, I used small sections of pvc pipe as my moulds.
I have a video coming soon where I'll show you how I make it with another plating idea.
This recipe will make approximately 10-12 1/4 cup capacity moulds.
Inspiration from my kitchen
Apples are just back in season here and we were given a bag full of delicious organic apples - Yum! Nothing beats a fresh crispy apple does it!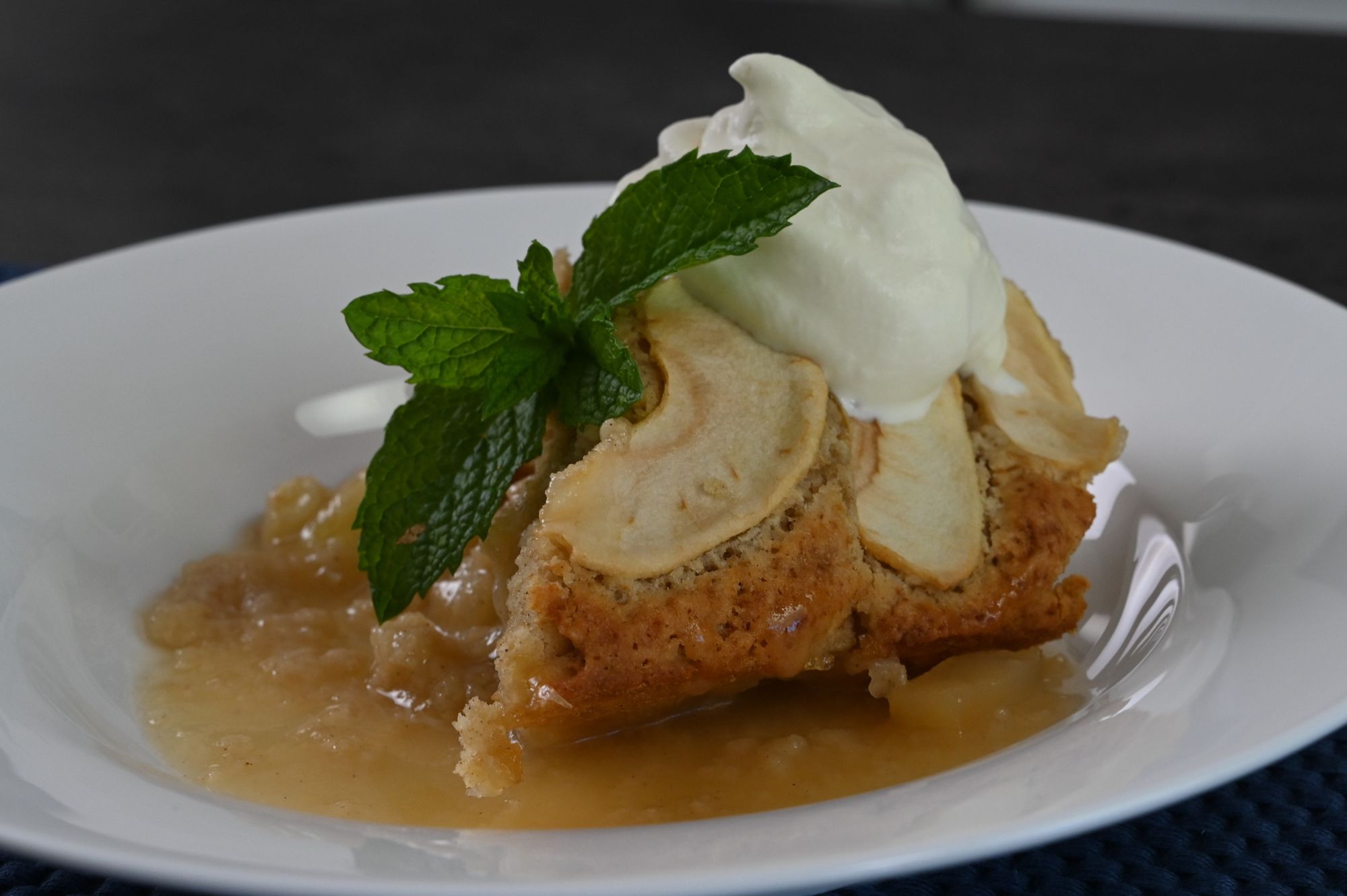 Anyway, with the weather cooling down and apples sitting on the bench tempting me, I dug out a good old faithful recipe and made a sticky caramel apple self-saucing pudding. It's a great comfort dessert and can be served with cream, or ice-cream, or both!
Ingredients:
Sauce:
1/2 cup (112g / 3 1/2 oz) brown sugar
2 tablespoons (30ml) golden syrup
1 tablespoon (3 teaspoons) butter
1 1/2 cups (375ml / 12 fl oz) boiling water
1 tablespoon (3 teaspoons) cornflour, mixed with 1 tablespoon water to make a slurry
Cake batter:
60g (2 oz) butter
2 apples, peeled, cored and cut into quarters
50g (1 3/4 oz) sugar
1 egg
1 teaspoon mixed spice or cinnamon
1 1/2 cups (225g / 7 oz) self-raising flour
1 teaspoon baking powder
1/3 cup (80g / 2 1/2 oz) milk
Method:
Preheat the oven to 180 degrees Celsius / 350 degrees Fahrenheit.
Grease an oven safe ceramic bowl (about 6 cup capacity).
Dice 6 quarters of the apple into small pieces. Slice the remaining 2 quarters into thin slices to decorate the top of the pudding.
Add half of the diced apple pieces to the ceramic bowl.
Put the brown sugar, golden syrup and butter into a measuring jug in preparation for making the sauce.
Get some water boiling in preparation for when it is needed.
Cream the butter and sugar together until light and fluffy.
Add in the egg and mix through.
Start folding in the flour, baking powder and spice.
Add in the milk and mix until all combined.
Fold in the remaining diced apples.
Spoon into the ceramic bowl. It will be quite a stiff batter so don't worry about getting it flat on top, it'll bake up nicely.
Arrange the remaining apple slices decoratively on top.
Pour the boiling water over the sauce ingredients in the measuring jug and mix to dissolve the sugar. Add in the cornflour slurry.
Pour it over the pudding. (It's best to pour the liquid over the back of a spoon so that it doesn't make big holes in the pudding batter).
Bake for approximately 40 minutes.
Enjoy with whipped cream or ice-cream.
Q&A
Q: What is the difference between black and white sesame seeds? Are they interchangeable?
A: Black and white sesame seeds are interchangeable. Black sesame seeds have a slightly stronger flavour and a crunchier texture because white sesame seeds have had their outer hull removed. Black sesame seeds also have a higher nutrient content.
I wonder what the sesame tuile would look like with black sesame seeds, maybe I need to try it sometime. :)
What's in the pipeline?
This week we have been making some delicious, yet simple cold hors d'oeuvres. They're such a great addition to a dinner party or you can even make them for a cocktail style party. Watch out for this video next fortnight…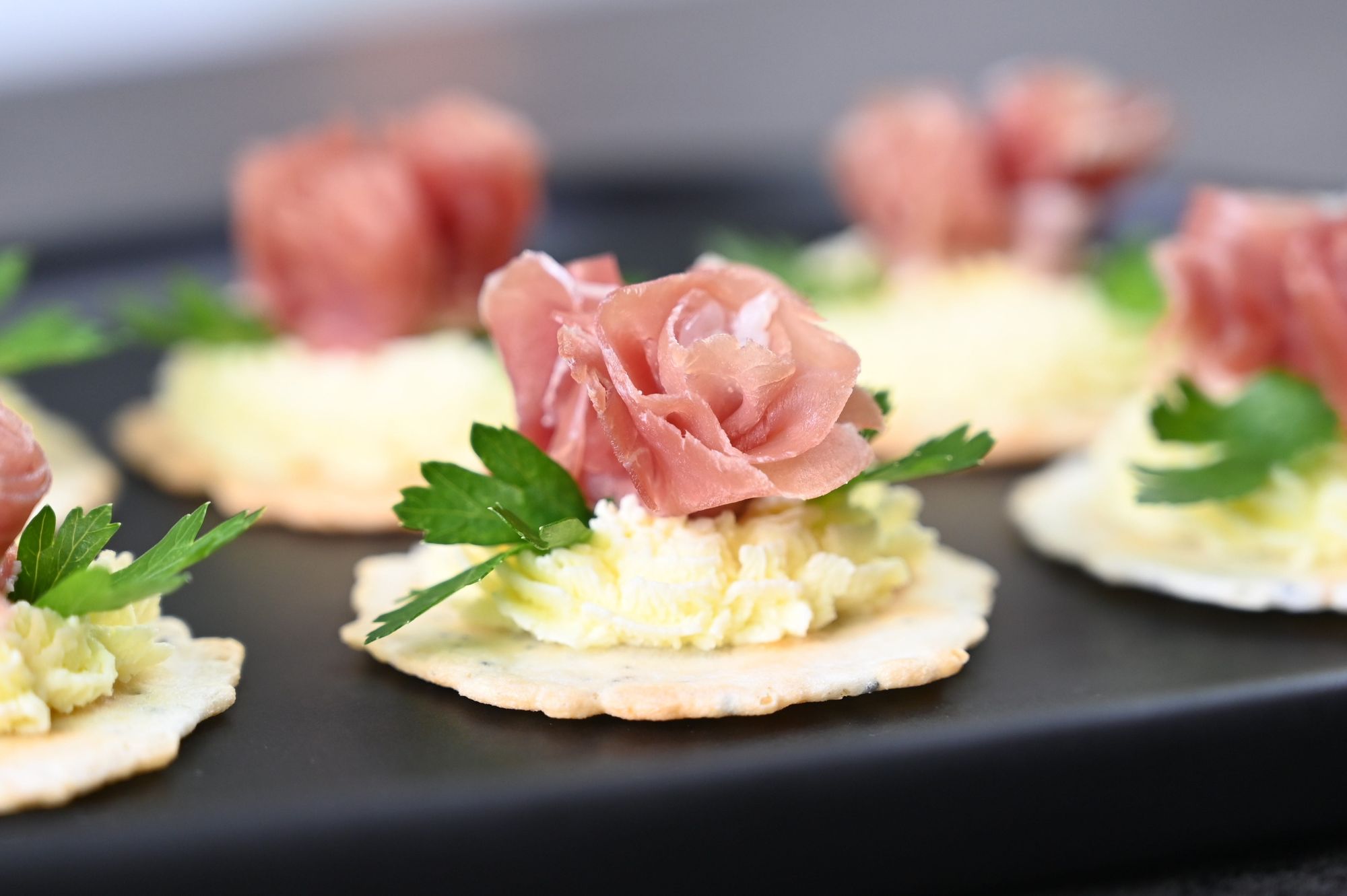 Happy cooking,
Taryn