Bacon and Feta Salad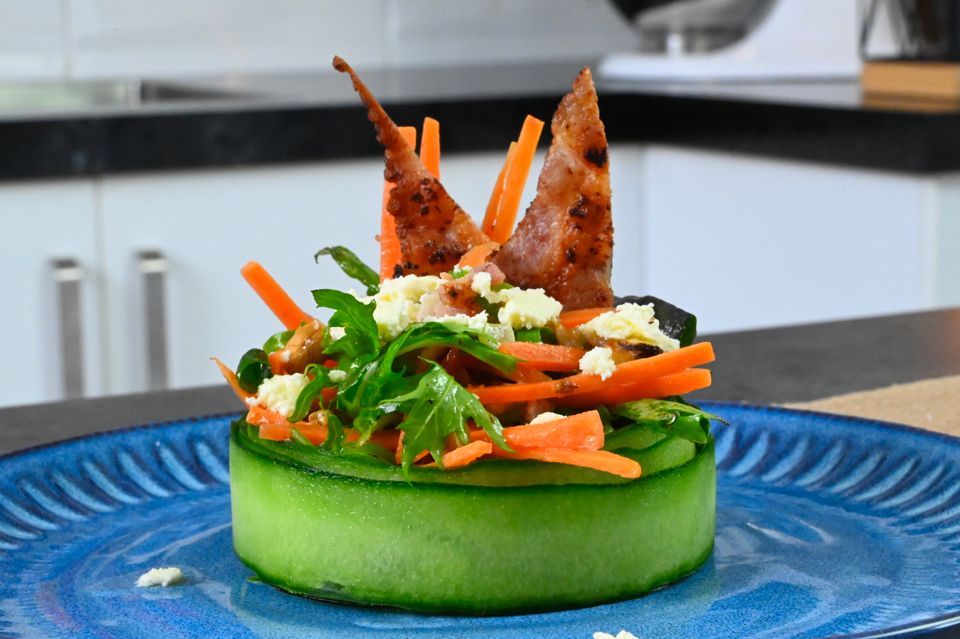 Served as an entrée or individually plated small side this delicious bacon and feta salad is a perfect addition to your meal.
You can swap out any of the ingredients to make this your own - just remember to add colour, crunch and drizzle of dressing.
It's so amazing how a piece of thin cucumber can create a perfect little 'bowl' to keep this salad compact and classy.
Ingredients:
2 rashers streaky bacon
1 carrot
1/4 cup walnut pieces
2 tablespoons feta cheese
1 spring onion
1 telegraph cucumber
Method:
Fry the streaky bacon until crispy, then drain on paper towel to soak up the excess fat.
Chop half the bacon into small pieces and keep the rest in longer strips for garnishing.
Mix the carrot, salad greens, chopped bacon, walnuts and spring onion together.
Add the white wine vinaigrette and mix through.
Peel the cucumber lengthwise into long ribbons.
Shape a couple of the long ribbons into a ring shape and fill with the salad.
Garnish with the extra bacon and crumble over some feta cheese.
This makes two portions.
White Wine Vinaigrette
Ingredients:
1 tablespoon white wine vinegar
3 tablespoons olive oil
1 teaspoon honey
Pinch of pinch of salt
Method:
Put all the ingredients into a bowl and whisk together.