Banana and Blueberry Mini Loaves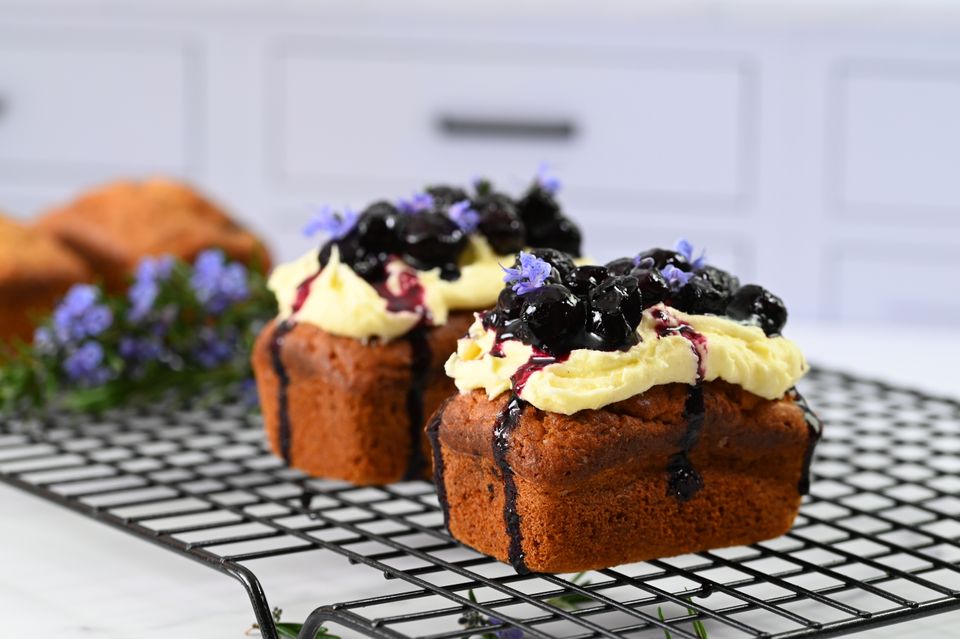 Discover pure bliss with these delightful blueberry and banana mini loaves, each a perfect harmony of sweet banana and bursts of juicy blueberries.
Topped with a luxurious white chocolate buttercream frosting, and drizzled with a homemade blueberry compote, these miniature treats are pure indulgence. Enjoy as a dessert, morning or afternoon tea or whatever special occasion you're celebrating.
Ingredients:
Makes 8 mini loaves
2 cups flour
1/2 cup white sugar
1 teaspoon bicarbonate of soda
1/2 teaspoon salt
1 1/2 cups mashed ripe banana (approximately 3 bananas)
1/3 cup plain yoghurt
2 eggs
1/4 cup vegetable oil
2 teaspoons vanilla essence
1 cup blueberries (fresh or frozen)
Method:
Preheat oven to 180 degrees Celsius (350 degrees Fahrenheit).
Grease an 8 cup mini loaf tin with cooking spray or butter.
Whisk the flour, sugar, baking soda and salt together in a medium bowl.
In a separate bowl whisk the banana, yoghurt, eggs, oil and vanilla essence together.
Add the dry ingredients and mix gently until just combined.
Fold in half the blueberries and divide the mixture evenly between the mini loaf pans.
Top with the remaining blueberries.
Bake for about 25 minutes or until an inserted toothpick comes out clean.
Remove from the oven and let them cool completely in the tin before removing and icing.
Ice with white chocolate buttercream frosting.
White Chocolate Buttercream Frosting
Ingredients:
80g (2 1/2 oz) white chocolate, melted
100g (3 1/2 oz) butter, softened
150g (5 oz) icing sugar
Method:
Beat the butter and white chocolate together until creamy.
Slowly add the icing sugar until it reaches a smooth spreadable consistency. If it's too thick you can add a dollop of milk to thin it down a little.
I also served this with a blueberry compote.