Dried Fruit and Nut Tea Sandwiches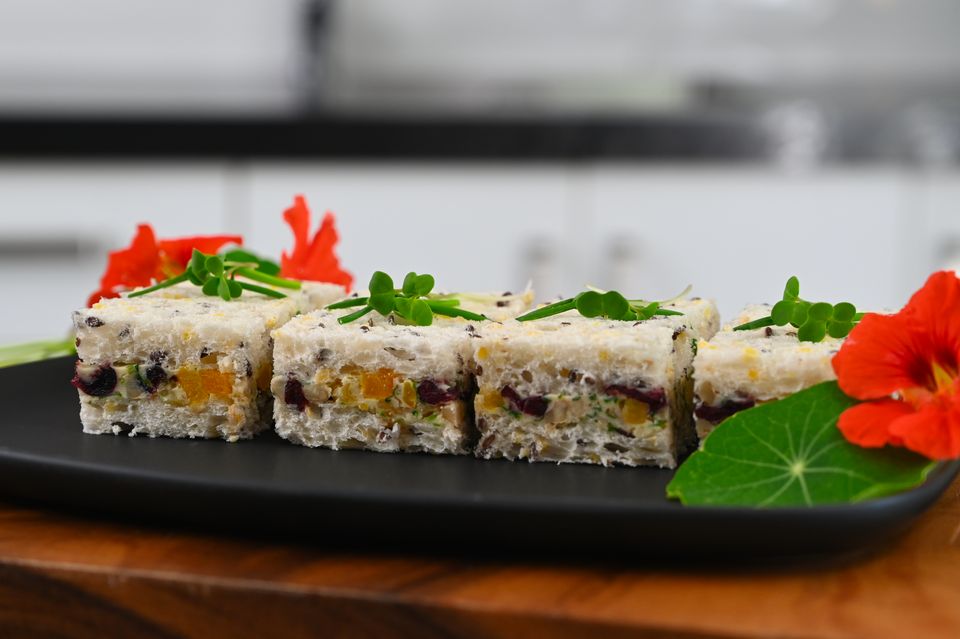 Try the delightful flavours in these dried fruit and nut tea sandwiches. Experience the perfect harmony of chewy dried fruits, crunchy nuts, and creamy cream cheese, all nestled between soft, fresh bread.
This delectable creation is a tasteful addition to your afternoon tea, offering a blend of textures and sweetness in every bite.
Ingredients:
Sliced bread (I used a soy and linseed loaf)
Cream cheese, softened
Dried fruit (I used cranberries and apricots)
Walnuts, chopped (or any nuts of your choice)
Fresh parsley and chives
Long chives for tying
Method:
Soften the cream cheese with a fork.
Add the dried fruit, nuts and chopped herbs and mix together well.
Spread onto the bread and top with another slice.
Wrap well and refrigerate to compress the sandwich.
Cut off the crusts and then into finger sandwiches.
Tie with a long strand of chive and finish with a few microgreens.