Gratin Potato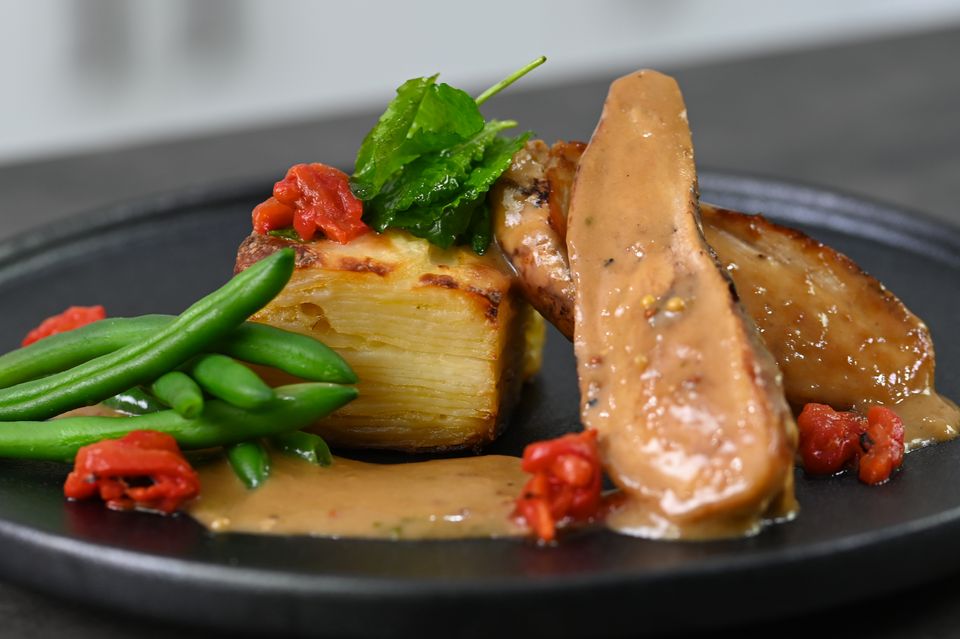 This decadent dish features thinly sliced potatoes layered with a velvety, garlicky cream sauce. Each bite delivers a perfect balance of creamy richness and subtle garlic flavour. This versatile recipe is a perfect side dish and can be made in advance to make feeding a crowd a breeze.
Ingredients:
1.5kg (3lb 4 oz) potatoes
1 leek, thinly sliced
1 clove of garlic, crushed
A few sprigs of fresh thyme or rosemary
1 cup cream
Butter and oil for sweating
Salt and pepper
Method:
Peel the potatoes, then thinly slice using a mandolin if you have one.
Wash the leek well to remove the hidden dirt.
Gently sauté the leek, garlic and thyme in a drizzle of oil and butter, until soft.
Add the cream and reduce until thick.
Season well.
Pour over the potatoes and mix through.
Prepare an oven dish with tinfoil and then baking paper.
Press the potatoes into the prepared dish, making sure you have the corners well filled.
Top with another piece of baking paper and cover with tinfoil.
Bake at 180 degrees Celsius (350 degrees Fahrenheit) for approximately 40 minutes to an hour or until soft when you prick with a skewer.
Remove from the oven and weigh down with a similar sized oven tray or tinned vegetables to press it together.
Refrigerate once cool.
The following day, remove from the oven tray and slice into portions.
Arrange on a flat oven tray and warm through/brown before serving. This will take approximately 30minutes at 180 degrees Celsius.