Ham and Cucumber Tea Sandwiches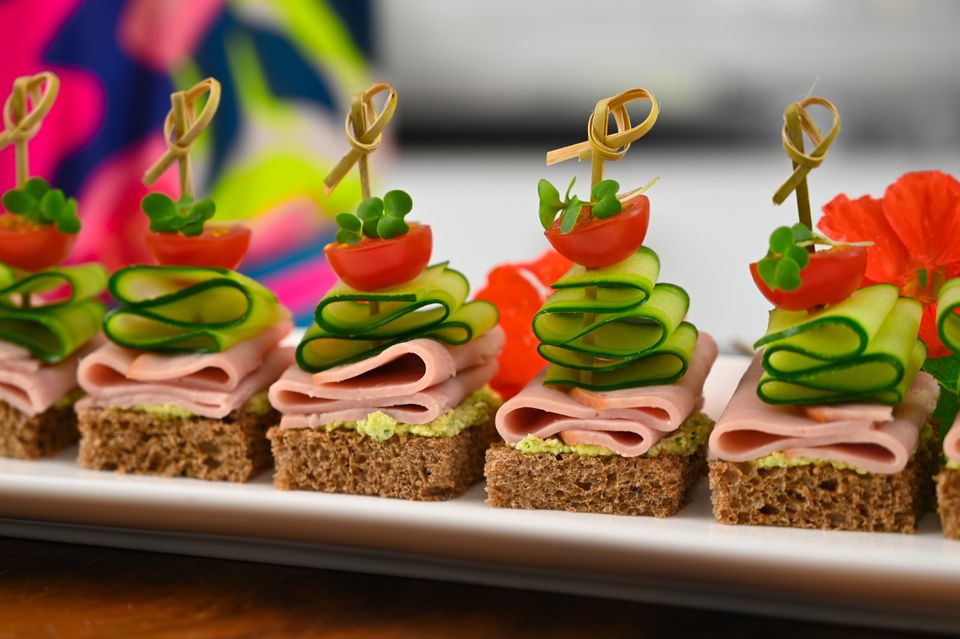 Delight in the classic charm of this ham and cucumber tea sandwich.
Thinly sliced ham, paired with crisp cucumber, creates a delightful contrast of flavours and textures. Nestled between soft, fresh bread, it's a timeless favourite for afternoon tea or a light snack.
Ingredients:
Rye bread, cut into preferred shape
Ricotta and basil pesto
Sliced ham
Cucumber
Cherry tomatoes
Microgreens
Method:
Cut squares of rye bread using a cookie cutter as a guide to get them all the same size.
Combine the ricotta and basil together to make a tasty spread.
Spread or pipe onto the bread.
Cut strips of ham the same width as the bread (use the same cookie cutter).
Cut the cherry tomatoes in half through the middle.
Peel long strips of cucumber to create ribbons.
Dab the cucumber on a piece of paper towel.
Gently fold one strip of ham in a loose zigzag, do the same with one strip of cucumber, top with a cherry tomato half and then stick the skewer right through the centre.
Put it onto the bread and tease out the layers a little.
Top with some microgreens to finish it off.