Healthy Chocolate Tart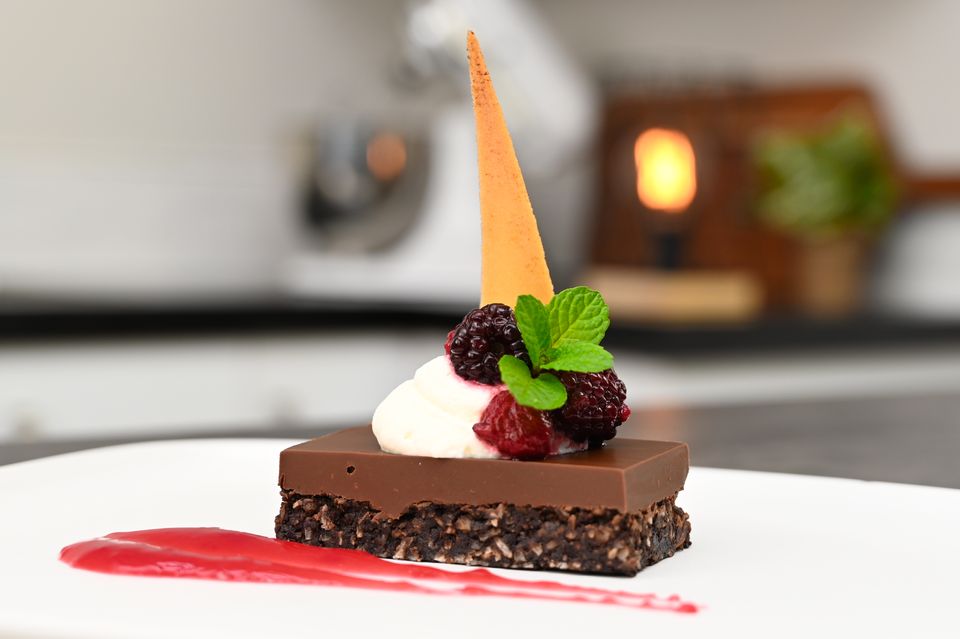 A 'healthy' chocolate tart is something we all need in our recipe collection.
This simple, no bake, whole food recipe is very versatile and can be served as a slice or a dessert. Add a tuile, berry coulis and cream for a fine dining inspired dessert or simply cut and serve just as it is.
All you need is a food processor and some time for it to set in the fridge.
Chocolate Tart Base
Ingredients:
110g (3.88 oz) almonds, or almond meal
80g (2.82 oz) coconut, desiccated or thread
25g (0.88 oz) cocoa
90g (3.17 oz) pitted dates, soaked or use Medjool dates
40g (1.41 oz) honey
30g (1 oz) peanut butter
1 teaspoon vanilla essence
Pinch of salt
Method:
Place all the ingredients for the base into a food processor and blend together until it resembles a sticky crumb mixture.
Press into a baking paper lined 20cm slice tin and set aside.
Chocolate Tart Topping
Ingredients:
200g (7.05 oz) dark chocolate (I used 50% cocoa here)
240g (8.46 oz) peanut butter
200g (7.05 oz) honey
Method:
Place all the topping ingredients into a small saucepan and gently melt them together, stirring constantly until smooth and well combined.
Pour it over the base, and leave it to set in the fridge for a few hours.
I garnished this with a Tuile Biscuit.