Hummingbird Cake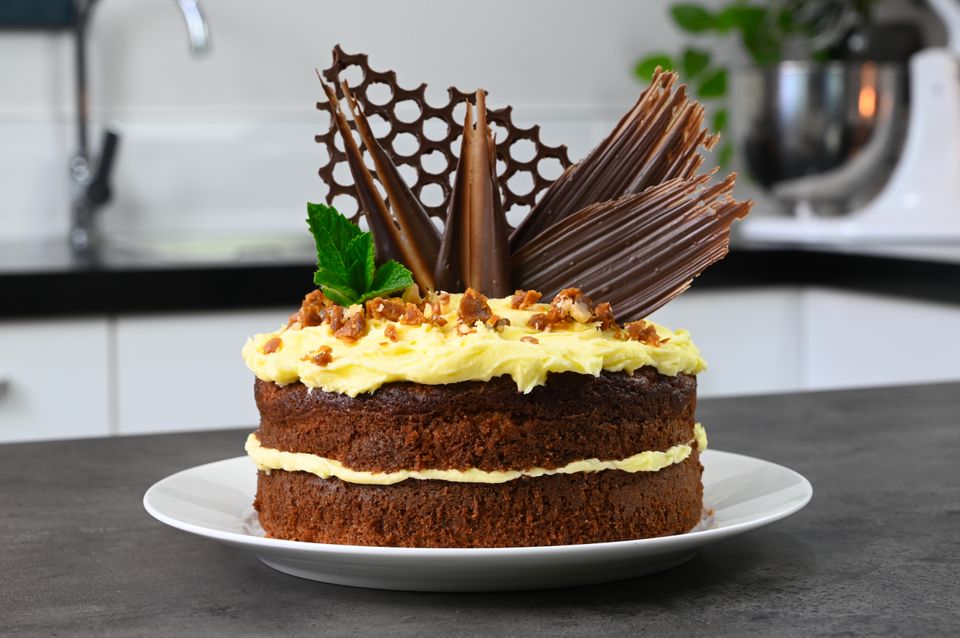 This tropical inspired, moist and delicious Hummingbird cake is lightly spiced with cinnamon and packed with banana and crushed pineapple. Then filled with lashings of soft cream cheese frosting it's pretty hard to beat.
It is similar in texture to a banana cake or carrot cake. Why not just give it a try!
Ingredients:
2 1/2 cups flour
2 teaspoons ground cinnamon
2 teaspoons baking powder
1 teaspoon baking soda
Pinch of salt
4 eggs
1 cup oil
1 cup brown sugar
1 cup castor sugar
2 teaspoons vanilla essence
4 ripe bananas, mashed
420g tin crushed pineapple, well drained
Method:
Preheat oven to 180 degrees Celsius (350 degrees Fahrenheit).
Line a 20cm round cake tin with baking paper.
Whisk the flour, cinnamon, baking powder, baking soda and salt together in a large mixing bowl.
Whisk the eggs, oil, brown sugar, castor sugar and vanilla essence in a separate bowl until well combined.
Add the banana and crushed pineapple and mix through.
Gently fold in the flour until just combined.
Pour into the prepared cake tin and bake for approximately 45 minutes or until a skewer inserted comes out clean.
Leave for about 5 minutes and then turn out onto a wire rack to cool.
Ice with cream cheese frosting.
Cream Cheese Frosting
Ingredients:
125g (4 oz) butter, at room temperature
165g (6 oz) cream cheese, at room temperature
2 1/2 cups icing sugar
1 tablespoon milk
1 teaspoon vanilla essence
Method:
Whip the butter with an electric beater until smooth and creamy.
Add the cream cheese and continue mixing until combined and smooth.
Add in a third of the icing sugar and mix through.
Then add another third and mix together while adding the milk and vanilla.
Add the last of the icing sugar and mix until fluffy.
Use to ice the cake.
To see how to make the chocolate decorations used on this cake, see https://youtu.be/66WHzP0RnqE