Pork Fillet with Kumara Puree and Bacon Pieces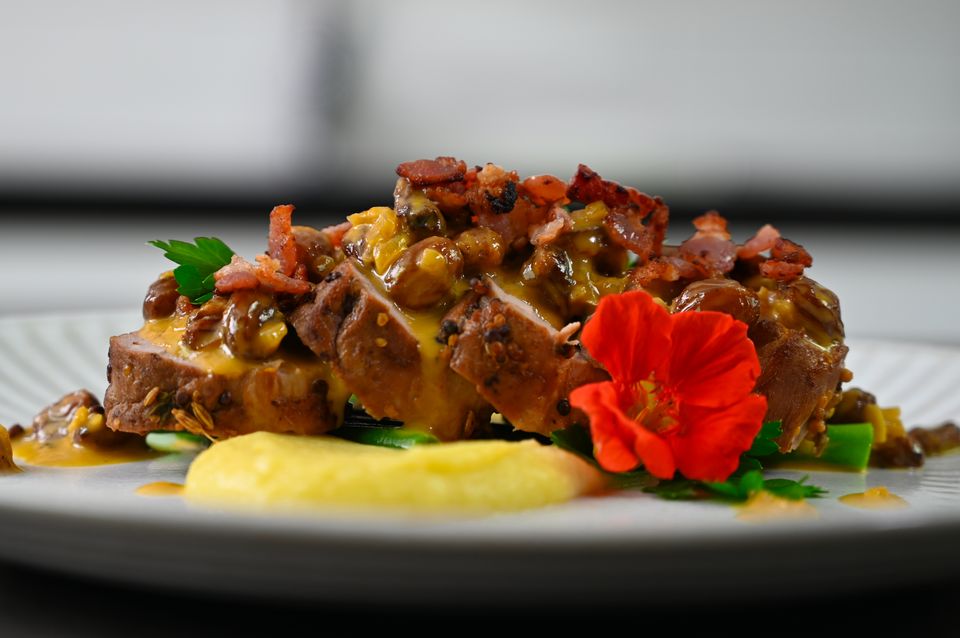 Get ready to enjoy this tender, juicy pork fillet meal paired with a velvety garlic sweet potato and ginger puree.
It's easy to put together and you have the bonus of creating a delicious creamy pan sauce. The flavours of the aromatic ingredients and fruit complement each other perfectly.
Not only does this recipe deliver incredible taste, but it also offers endless possibilities for beautiful plating that will showcase the lovely balance of flavours and textures.
Ingredients:
1 pork fillet
2 slices streaky bacon, finely diced
1 teaspoon fennel seeds
1 sprig fresh thyme
1 tablespoon Worcestershire sauce
1 tablespoon seeded mustard
Oil for frying
1/2 onion, finely diced
2 cloves garlic, crushed
1/4 cup raisins
1 cup vegetable or chicken stock
1/4 cup white wine
1/4 cup fresh cream
Salt and pepper
Method:
Pan fry the bacon until crispy and set aside to drain.
Put the Worcestershire sauce, fennel seeds, fresh thyme, and mustard onto the pork and rub it all over.
Pan fry in a little oil until browned on all sides.
Put it into a hot oven, approximately 180 degrees Celsius (360 degrees Fahrenheit) until the internal temperature reaches 70 degrees Celsius (140 degrees Fahrenheit). Leave to rest for 10 minutes.
Add another drizzle of oil into the pan and add the onion and garlic.
Sauté until soft, but not coloured.
Deglaze the pan with the white wine.
Add the stock and raisins and simmer until reduced by half.
Then add the cream and reduce until it reaches the desired sauce consistency. Usually this is when the sauce is thick enough to coat the back of a spoon and not just run off.
Once the pork is out of the oven, add in any of the meat juices from the pan for some extra flavour.
Kumara Puree
Ingredients:
1 kumara or sweet potato, peeled
1/4 apple, peeled
1 teaspoon fresh ginger
1/2 onion, finely diced
1 clove garlic, crushed
Salt
Method:
Chop the kumara and apple into chunks and bring to the boil. Boil until very soft.
Drain and put into a blender. NB make sure you keep the drained liquid to use for thinning the puree if necessary.
Sweat the onion and garlic in a little butter and oil.
Grate in the fresh ginger and cook until fragrant and soft.
Add to the kumara and puree until smooth.