Ricotta, Spinach and Pine Nut Stuffed Chicken Supreme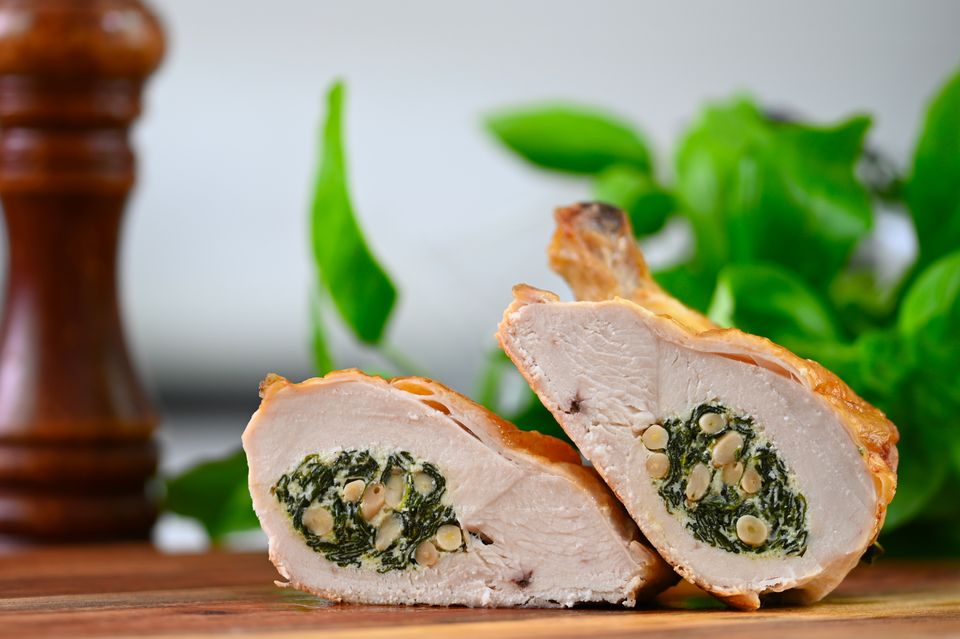 Filling a chicken breast with a delicious stuffing, carefully piped in, can transform it with an added layer of flavour and colour.
In this recipe we add a ricotta, spinach and pine nut stuffing to a chicken supreme and bake it until it's golden and tender. You can serve it with your favourite sides for a hearty meal on a cool day.
Ingredients:
2 chicken supremes (boneless breast with the first joint of the wing still attached)
100g (3 1/2 oz) ricotta
1 bunch spinach leaves
3 tablespoons pine nuts
Salt and pepper
Method:
Pour boiling water over spinach leaves to soften and wilt.
Squeeze off as much liquid as possible, and finely chop.
Lightly toast pine nuts in a fry pan over a medium heat.
Carefully make a pocket in the chicken breast by sticking a knife into the centre of the thickest part of the breast. Try to keep it in the centre and don't pierce all the way through chicken flesh. You can make the pocket as deep and big as you want to.
Mix ricotta, spinach and pine nuts together. Season well.
Put into a piping bag and squeeze into the slit of the pocketed chicken breast.
Sear the chicken in a hot pan to brown all over.
Put it onto an oven safe dish and bake at 180 degrees Celsius (350 degrees Fahrenheit) for approximately 20-30 minutes.
Serve with your favourite sides.