Smoked Salmon, Boiled Egg and Avocado Salad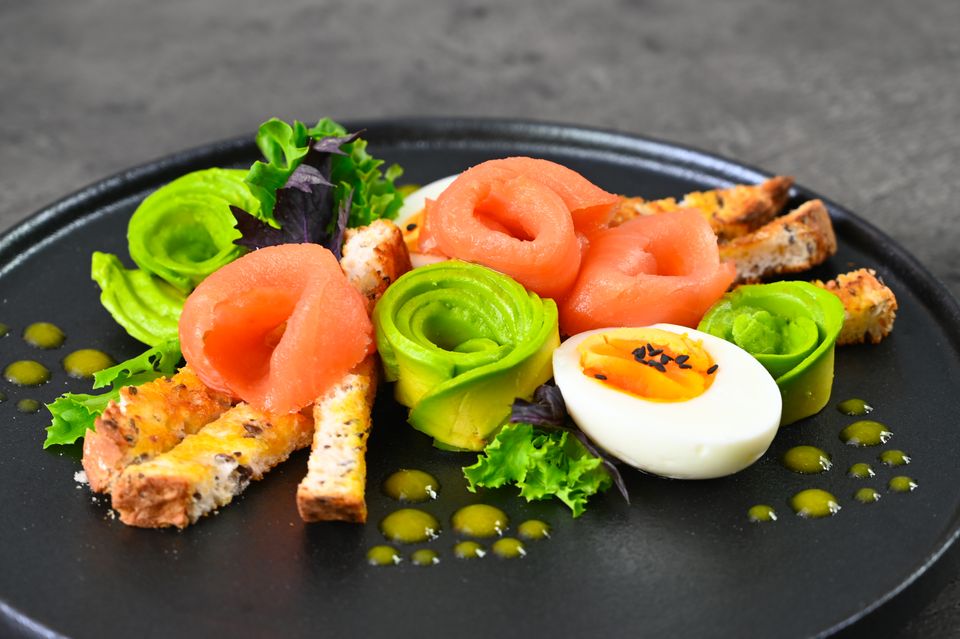 This simple lunch is easy to make, beautiful to look at and delightful to eat. The vibrant colours add so much visual appeal.
The smoky goodness of cold smoked salmon with the richness of boiled eggs combined with the creamy avocado all in one tasty dish are satisfying and refreshing.
These ingredients work so well together and are topped off with the hint of sweet mango puree. Prepare to treat your taste buds with every bite.
Ingredients:
1 ripe avocado
1 boiled egg
1 slice of toast, buttered
Smoked salmon slices
Lettuce greens
1 tin mango slices
Salt and pepper
Method:
Blitz up the tin of mangoes, with the liquid, until smooth.
Strain through a fine sieve. Put it into a squeezy bottle ready for plating. (This will make enough puree for several plates.)
Slice the avocado into 9 thin strips.
Lay out 3 slices (slightly staggered) and roll up. Fan out a little if you want it to look a bit more like a flower and give it a little more depth.
Arrange on the plate as your starting point.
Cut the egg in half and add to the plate.
Cut the toast into fingers and arrange. Overlap slightly to give it more visual appeal.
Decoratively fold the salmon and add to the plate. If you can, put it somewhere to create height - since it's the main focus of the plate it should stand out.
Add the sesame seed garnish, season the eggs, and add the green garnish.
Pipe on the sauce decoratively around the plate.