Sushi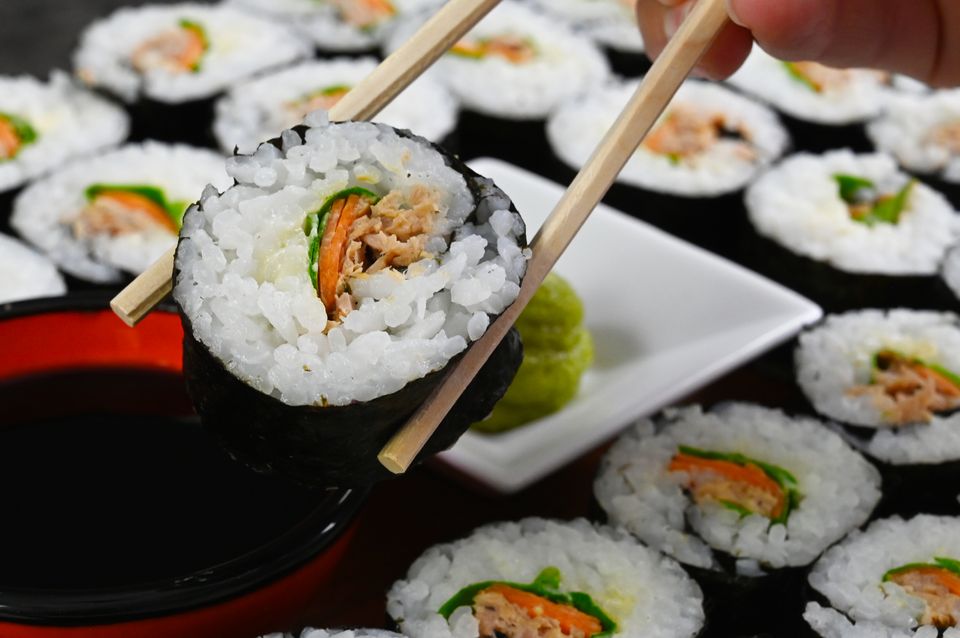 If you love sushi, learning to make it at home is a must! It's easy and a lot cheaper than eating it from a restaurant.
You can customise the filling ingredients to your liking and satisfy your sushi cravings.
Ingredients:
2 cups sushi rice (short grain/arborio)
3 cups water
1/4 cup approx. rice wine vinegar
Roasted seaweed sheets (nori sheet)
Kewpie mayonnaise (or any mayo based spread will work)
Fillings (I used tinned tuna, spinach leaves and carrot)
Pickled ginger
Soy sauce
Wasabi paste
Method:
Wash the rice in a colander under running water until it runs clear.
Put it into a pot with a tight fitting lid.
Add the water and a teaspoon of salt. Turn on the heat and cover with the lid.
When it's boiling rapidly, turn off the heat. Don't touch the lid and leave it on the element for about 30mins for the rice to absorb the liquid.
Take the rice out of the pot and put it into a shallow bowl to cool.
Generously drizzle over the rice wine vinegar.
Prepare the filling ingredients, drain the tuna, grate the carrot into ribbons.
Spread out sushi sheets (shiny, smooth side down. Lines running vertically)
Pat on the rice using wet hands. Leave about 1 inch at the top and bottom free and try to keep it an even thickness all over.
Add a strip of mayonnaise, then add the rest of the fillings.
Wet the top edge of the seaweed paper with wet fingers.
Carefully and tightly roll up the sushi.
Set aside while you repeat this process.
Cut and serve with the ginger, wasabi and soy sauce.
Other great fillings are salmon, crab sticks, avocado, raw fish (make sure you get sushi quality fish), cucumber, spring onions, prawns, etc.