Sweet Potato and Chickpea Salad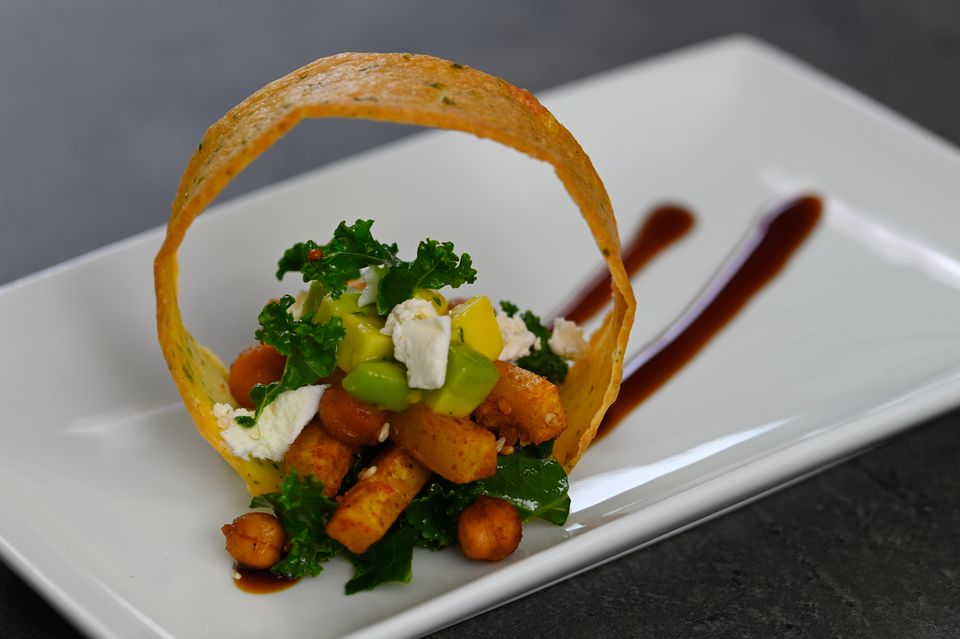 Indulge in the exquisite flavours of this Moroccan-inspired roasted sweet potato and chickpea salad. Fragrant, savoury spices intertwine harmoniously with the tender roasted pumpkin and crunchy chickpeas, creating a culinary masterpiece.
The medley of vibrant colours isn't just a treat for your taste buds but also a feast for the eyes.
I garnished this with a Savoury Tuile Biscuit.
Ingredients:
1 sweet potato, cut into batons
1/2 can chickpeas
1 tablespoon olive oil
1 teaspoon sesame seeds
1/2 teaspoon paprika
1/2 teaspoon garlic powder
1/2 teaspoon cumin
1/4 teaspoon chili flakes
1/4 teaspoon salt
Qty of kale leaves or leafy salad greens
1/2 avocado, diced
Qty feta cheese
Method:
Put the sweet potato and chickpeas in a bowl and add the olive oil, sesame seeds, paprika, garlic powder, cumin, chili flakes and salt. Mix it all together to fully coat.
Transfer to a roasting tray and roast in a hot oven (200 degrees Celsius / 400 degrees Fahrenheit) until soft and golden.
Break the kale into smaller pieces. Rub in some of the vinaigrette dressing to soften and flavour the leaves.
Mix together the salad components, adding in some more dressing. Alternatively you can layer them up intentionally to create a fine dining style entrée salad and drizzle over a little vinaigrette.
Vinaigrette Dressing
Ingredients:
1 teaspoon apple cider vinegar
3 teaspoons vegetable oil
1 teaspoon seeded mustard
1 teaspoon Dijon mustard
1/2 teaspoon honey
Chopped parsley
Pinch of salt
Method:
Add all the ingredients to a small bowl.
Whisk together until it has all come together and is shiny in appearance.
Use as needed to dress your salads.