Tomato, Pâté and Basil Tea Sandwiches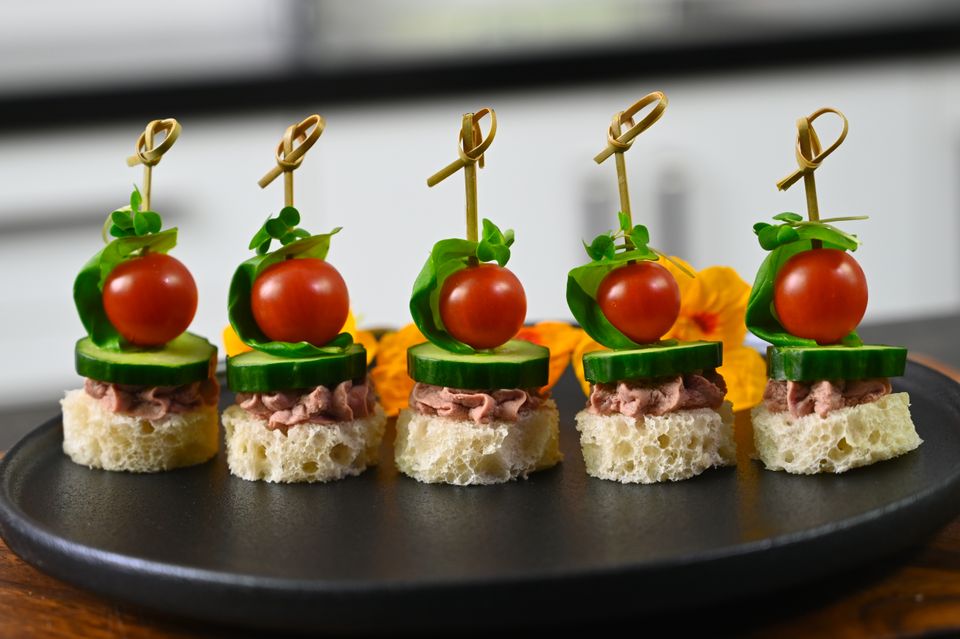 Experience a taste of summer with these fresh tomato, pâté and basil tea sandwiches.
Juicy tomatoes, fragrant basil, and soft crustless bread create a light, elegant treat.
Enjoy the simplicity of this delightful combination, perfect for a refreshing afternoon tea or a light, healthy snack.
Ingredients:
White bread (I used a ciabatta loaf)
Chicken and port pâté
Cucumber
Cherry tomatoes
Fresh basil leaves
Microgreens
Method:
Cut the white bread into circles.
Scrape aspic off the pâté and mash a little to soften before putting it into a piping bag.
Pipe rosettes onto the bread circles.
Cut the cucumber into chunky slices and dab dry on a piece of paper towel.
Gently press the cucumber slices onto the pate rosette.
Stick a bamboo skewer through the tip of a basil leaf, then through a cherry tomato and then fold the basil underneath the tomato and through the skewer.
Stick the skewer into the tea sandwich.
Top with some microgreens to finish.