Custard Square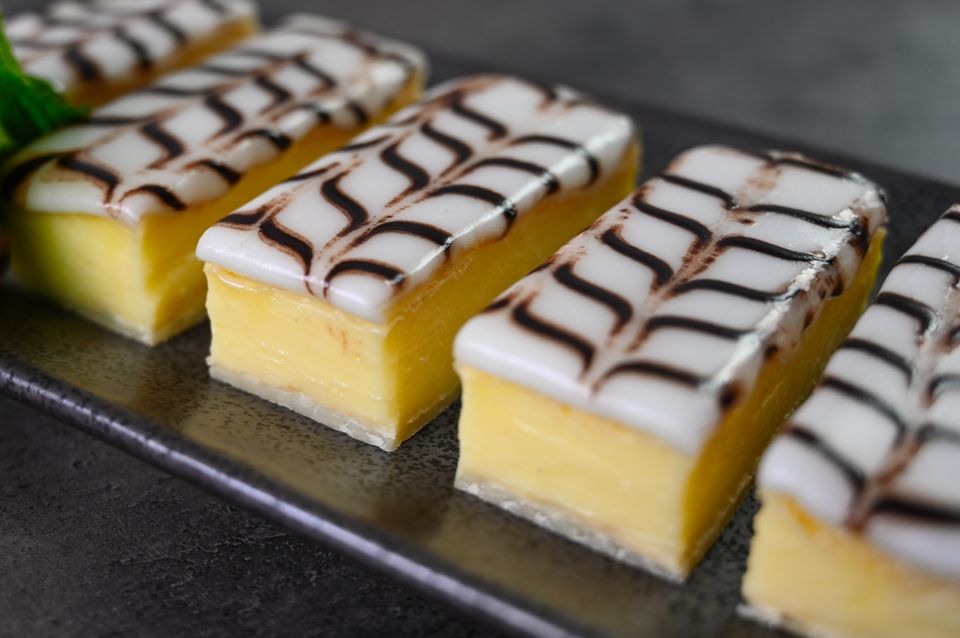 This is a perfectly delicious custard square recipe - unconventional, but absolutely fool proof!
Custard Square or Vanilla Slice is a creamy vanilla infused custard sandwiched between flaky puff pastry or filo pastry.
In this recipe we ice it with a simple white icing and then feather through some chocolate icing to add to the presentation. It is also delicious with desiccated coconut sprinkled on top of the icing or a generous drizzle of passionfruit.
Make it a day in advance to allow the flavours to develop, it's tastier the next day.
Ingredients:
1 packet ready rolled flaky puff pastry
40g (1.4 oz) flour
40g (1.4 oz) cornflour or cornstarch
15g (0.5 oz) custard powder (See below for how to make this)
Pinch of salt
130g (4.5 oz) sugar
65g (2.3 oz) cold tap water
665g (23.4 oz) milk
30g (1 oz) butter
1 egg yolk
1 vanilla bean, scraped
Method:
Pre-heat oven to 200 degrees Celsius (400 degrees Fahrenheit).
Cut pastry roll in half and put each half onto a baking tray.
Dock the pastry all over.
Bake until puffed up and golden.
Remove from the oven and squash down with a spatula. Leave to cool on wire racks.
Put the flour, cornflour, custard powder, salt and sugar into a microwave safe bowl.
Add the water and whisk together until smooth.
Add the milk and whisk until smooth.
Add the butter and scraped vanilla bean and microwave for 2 minutes on high power.
Remove from the microwave and give it a good whisk.
Return to the microwave and cook for another minute, then whisk.
Repeat this until the custard has substantially thickened up.
Add the egg yolk, whisking very quickly so that your egg doesn't cook.
Return to the microwave for another minute, then whisk and pour onto the pastry sheets (smooth side down)
Sandwich the sheets together and put the custard square into the fridge to set and cool.
To make the icing, mix icing sugar and boiling water together until a smooth spreadable consistency. You might need to add more water, or if it's too runny add more icing sugar.
Pour onto the top layer of custard square and carefully spread it all over.
Cut using a serrated bread knife and remember to wipe your knife clean in between each cut.
Custard Powder
Ingredients:
1 cup milk powder
1/2 cup cornflour or cornstarch
1 1/2 Tablespoons sugar or vanilla sugar
Yellow food colouring optional if you want to light yellow tinge
Method:
Blend it all together in a food processor for about 20seconds.
This will keep in an airtight container for as long as the use by date on the milk powder.