Luscious Lemon Cheesecake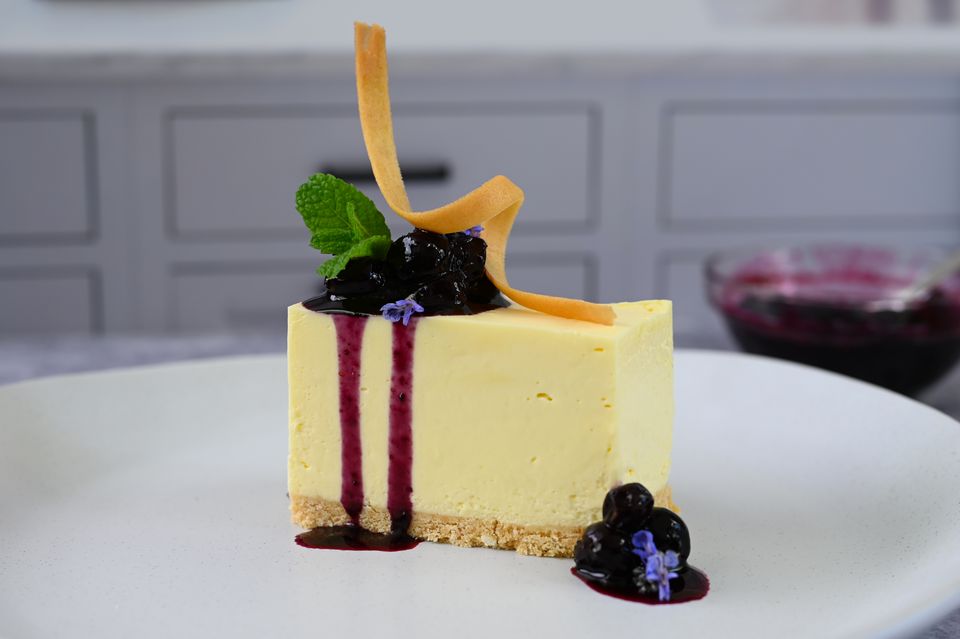 Indulge in a velvety lemon-kissed cheesecake, nestled on a delicate coconut crust and accompanied by a rich blueberry compote for extra flavour.
Whether it's for a special celebration or a casual treat, this easily assembled cheesecake promises a burst of flavour that effortlessly comes together.
Ingredients:
Makes one 20cm square cheesecake
190ml (7 1/2 fl oz) fresh cream
340g (12 oz) white chocolate
1 lemon zest
250g (16 oz) cream cheese
4 teaspoons vanilla essence
380ml (15 fl oz) fresh cream
200g (6 1/2 oz) biscuit crumbs
50g (1 3/4 oz) desiccated coconut
100g (3 1/2 oz) butter, melted
Method:
Grease or butter an 8" square, loose bottom cake tin and line with baking paper.
Mix the biscuit crumbs, desiccated coconut and melted butter together.
Press the mix firmly into the prepared tin. Refrigerate until needed.
Bring the first measure of cream and the lemon zest to the boil.
As soon as it starts to boil, turn off the heat and whisk in the white chocolate until completely smooth.
Cool until it doesn't feel at all warm, but hasn't completely set.
Beat the cream cheese until smooth, then gradually add in the chocolate mixture.
Beat the remaining cream and vanilla essence to soft peaks.
Fold into the cream cheese and chocolate mix.
Pour onto the base and return to the refrigerator until set. Overnight works best.
When it's set, remove from the tin and cut into portions. Remember to dip you knife into hot water (and dry it) before each cut to get clean slices.
I served this with a blueberry compote and tuile biscuit.