Asian Coleslaw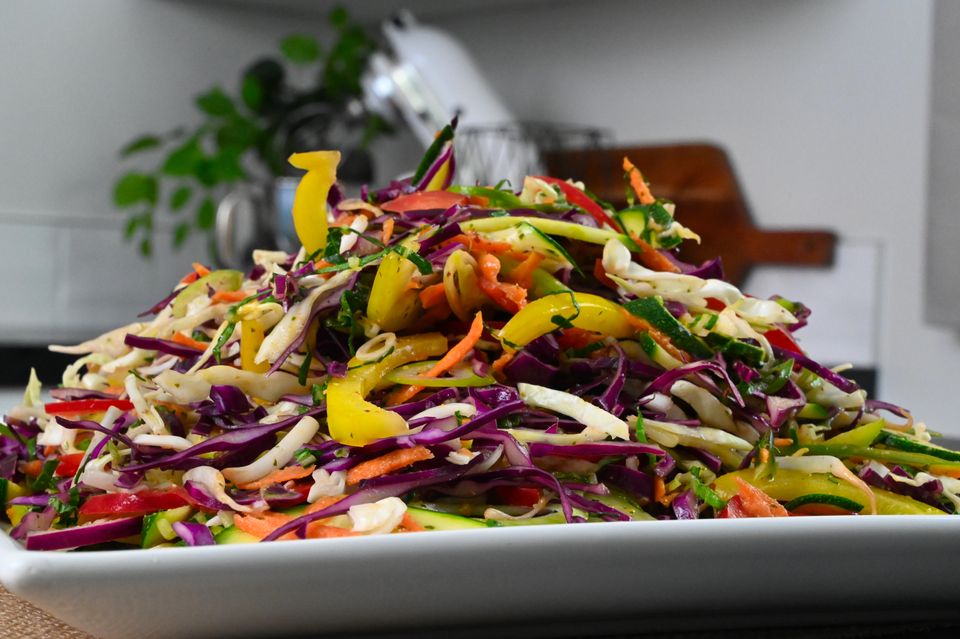 This crunchy Asian style coleslaw salad is bursting with flavour and oh so refreshing. It's a perfect side at the BBQ, stuff it into tacos or even enjoy it on it's own.
I love the addition of different vegetables that bring extra colour and flavour, but most of all it's the tangy coriander, chilli and ginger dressing that makes this salad extra special.
You can make a big batch of it and dress smaller portions as needed, it will keep fresh for days!
Ingredients:
1/8 red and 1/8 white cabbage
3 or 4 Bok choy leaves or a bunch of spinach leaves
2 carrots
Handful mung beans
1 stalk spring onion
1 red and 1 yellow capsicum
1 stalk celery
1 courgette
Method:
Finely slice or chiffonade the red and white cabbage and put into a large mixing bowl.
Roll and thinly slice the bok choy or spinach leaves, add to bowl.
Grate or julienne the carrot, add to bowl.
Add the mung beans.
Thinly angle slice the spring onion and celery, and add to the mixing bowl.
Thinly slice the capsicum and add to the bowl.
Cut the courgette in half, then angle slice and add to the bowl.
Season it, and add a good amount or dressing (approximately half a cup), mix through.
Chilli and Ginger Dressing
Ingredients:
60ml (2fl oz) apple cider vinegar
180ml (6fl oz) oil
1 teaspoon seeded mustard
1 tablespoon sweet chilli sauce
1 teaspoon golden syrup
5 stalks fresh coriander
3 stalks fresh parsley
3cm (1") piece fresh ginger
Method:
Put all the ingredients into a tall jug and blitz with a stick mixer for a couple of minutes until it has all come together and is smooth.
This makes about a cup of dressing.